Luxury travelers, nature lovers, adrenaline junkies, road trippers, honeymooners, backpackers…whatever your reasons or style of travel, you won't go wrong with New Zealand.
Personally, there were many firsts on this trip marking the beginnings of a dream of traveling full time.
Queenstown
We commenced our journey with the picture perfect city of Queenstown built around Lake Wakatipu, surrounded by The Remarkables mountain range, that are umm…..Remarkable!
Numerous dense bush walking trails, the quite lake surrounded by trees with various options to boat, kayak or sail, houses designed using wood and stone, streets filled with cheerful tourists seem to give this city a relaxed character.
Quite aptly known as 'Adventure Capital of the World', it brings out the adventuress in me.  Read my tryst with flying at – A birds' eye view of Queenstown – Hang Gliding!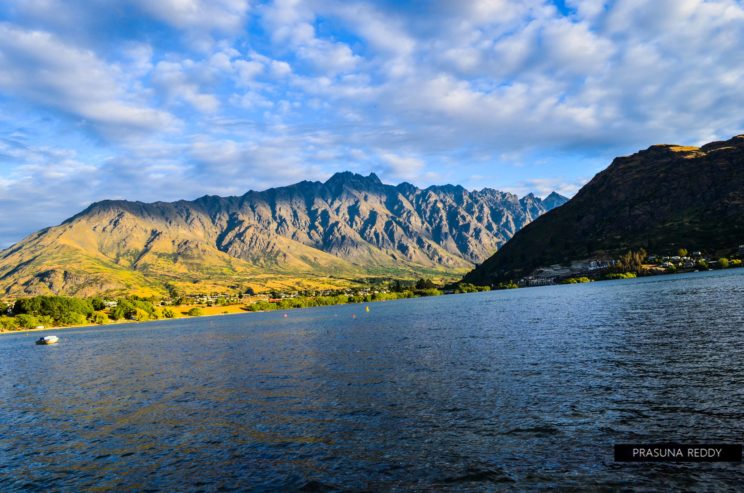 Milford Sound
A scenic and windy drive leads us to Milford Sound, my first experience of 'fjord', a narrow glacier-carved valley that is more than 100,000 years' in making.
In just a few moments, our world seemed to have dramatically reduced in size. The small ship we boarded cruised through blue waters in narrow pathways enclosed on all sides by mountains. As dolphins raced, we stood out and admired the closeup view of mountains straining our necks to look at their high peaks, feeling the mist of waterfall on our faces.
And once again in a few moments, our world suddenly expanded with no boundaries as we boarded the heli and flew over the spectacular ice capped peaks watching in awe the crystal clear deep blue lakes nestled high in the mountains.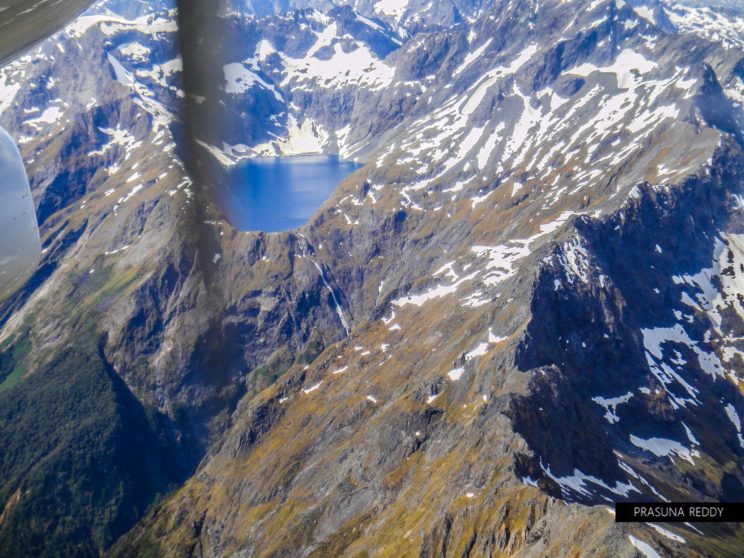 Wanaka
Wanaka seems to be defined by a lone tree that stands apart over Lake Wanaka, surrounded by South Island's Southern Alps.  Beautiful houses surrounded by clear streams, blooming gardens, roads' that lead to mountains and poplar trees standing tall, the town is a very definition of charm.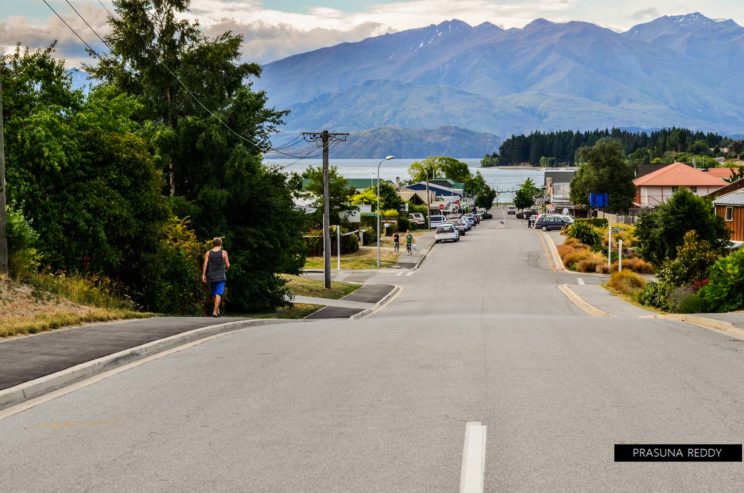 On route from Wanaka to Fox Glacier, our bus stopped at The Bushman's Centre at Pukekura, popular for its' Possum Pies. True to its' name, the place is designed mostly using animal skin, fur and animal artifacts.  While it was apt décor, I couldn't get myself to sit on the fur lined benches, and my hopes of finding something to eat vanished as I saw the sign 'vegetarian's an old Indian word for piss poor hunter.'
But the café's humor made up for an empty stomach. New Zealand's back country humor I discovered was wry and no-nonsense, and we couldn't stop laughing as we read each one of them: "Unattended children will be sold as slaves" "If you don't like our service, buy us out, and demand your own service."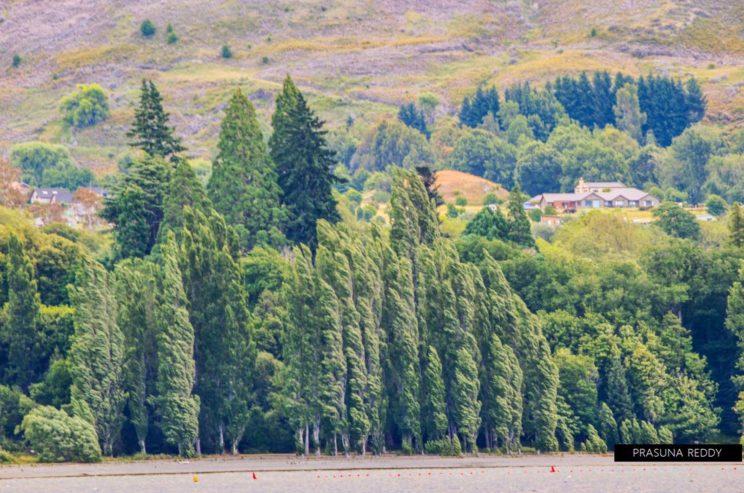 Fox Glacier
Excessively indulged in New Zealand's natural beauty, we didn't realise that the 'bestest' (unfortunately English doesn't have enough words!), was still ahead of us.
When we picked Fox Glacier over Franz Josef, our reasons' were to visit a place that was a little less commercial. We would soon find that there were plenty of reasons to visit Fox Glacier.
Read an account of our surprises at Fox Glacier at A small town filled with Surprises – Fox Glacier, New Zealand
Christchurch
We boarded the much heard of Tranz Alpine Train from Greymouth to Christchurch. While the initial greenery is what we had come to expect in New Zealand, soon, the train winds through various bridges and tunnels over the southern alps and high over deep gorges. Hundreds of feet below us, we watch in awe the beautiful emerald green and rich copper sulfate blue waters of Waimakakiri  River.
The city's resilience is what amazes us as we reach Christchurch, recovering again from a recent earthquake. Its' botanical gardens are filled with a variety of flowers in all shades of colors. A sense of serenity descends on us watching various species of birds and  the shikara boat gliding smoothly on a quiet stream.
Auckland
Finally it was time to leave, but, not before a party welcoming the New Year with the first fireworks of the world. While they were not as spectacular as the ones in Sydney, we left New Zealand in high spirits.
Practical Tips
The best way to experience New Zealand is hiring a caravan and going on a road trip.
If you are short of time, choose only one or two locations and relax soaking in its' beauty.
Summers are really long, and hence ideal, but December to March is also the peak season and hence everything quite expensive. If you plan to travel in these months, book as early as possible.
Some places like Wanaka are quite beautiful during Autumn rather than summer.
And if you are a vegetarian, always carry something to eat, especially if you are driving through remote areas.