"I am thinking of doing the Everest Base Camp trek."
Sitting in one of Pokhara's beautiful café's lining the lake, I voiced the thought that played on my mind from the time I landed in Nepal.
Beth, one of my two friends from Australia, replied…"I want to do it too…."
"Ok great, let's do it then." I was excited and relieved.
"Yay!! We are going to trek the base camp of the world's highest mountain, how good is that!" Beth's child like excitement is infectious. We squeal, giggle, laugh…
"I'll have to buy shoes…too bad there won't be time to break into them, but I'll be fine" says Beth.
"I'll use my runners. I don't think I'll try new shoes on a trek" I say, hoping my runners will withstand.
We were not joking. It's true we didn't have trekking shoes and we decided to trek Everest Base Camp. And it wasn't just the shoes!
No warm clothes – we packed for a summer holiday.
Minimum cash since we planned to chill in Pokhara.
No multi-day trekking experience. Our experience included few random day treks.
No idea of what EBC trek involved, or where to start.
I haven't carried anything on my back ever since I've left school.
Our return tickets were already booked, so we have exactly 16 days for the trek.
And we've known each other a month!
Dumb or adventurous, take your pick!
BUT, we did it! Without a guide/porter, without any prior experience with altitude, without using altitude medication and the dumbest of all, without insurance (although, I am not proud of the last one).
The shorter version of how the trek went
Physically: Exhaustion for want of better word, sleeplessness, loss of appetite, cold, headaches, nausea, shortness of breath, pain…more pain…and more pain…and….
Route: Beautiful, again for want of better word, waterfalls, milky white river, long bridges, prayer flags, prayer wheels, yaks, porters, grey snowcapped peaks, golden sunrises and sunsets, peace, solitude, serenity, did I say beautiful.yes, jaw dropping beautiful…
Emotions: Happy, despair, dread, exhilarated, calm, peaceful, awesome, inspired, intrigued, elated etc
Its the only way I can summarise a 15 day long, one of the most worthwhile and memorable experience of lifetime. If you prefer to skip to some useful information/tips about the trek, feel free to checkout the blog  "All you need to know about Everest Base Camp trek"
For those of you  interested in the full story, here goes…
 Word of caution: the blog may be as exhausting as the trek itself, to give the full essence of the trek :). If you do make it to the end, please do write your comments, good or bad!
Day 0: Reach Kathmandu, rent down jacket & sleeping bag, buy remaining items for trek, pack and try to get some rest.
The plan went smoothly until  late afternoon, when we reached Kathmandu.
Very confidently, I entered Shona's rentals. All those reviews about how it has everything one needs for a trek along with a super helpful owner couldn't be wrong, or so I thought!. And here was a moment I could use a good kick in the back, repeatedly!
The owner curtly told me that deposit for both items (sleeping bag and down jacket) was NPR 20K and NPR 200 per day rental. Despite repeatedly asking, he didn't show me the items. Whether I looked like someone who couldn't trek or pay or both, there was no time to figure.
 I turned around, angry, confused, anxious and more. The flight to Lukla is 11 hours away.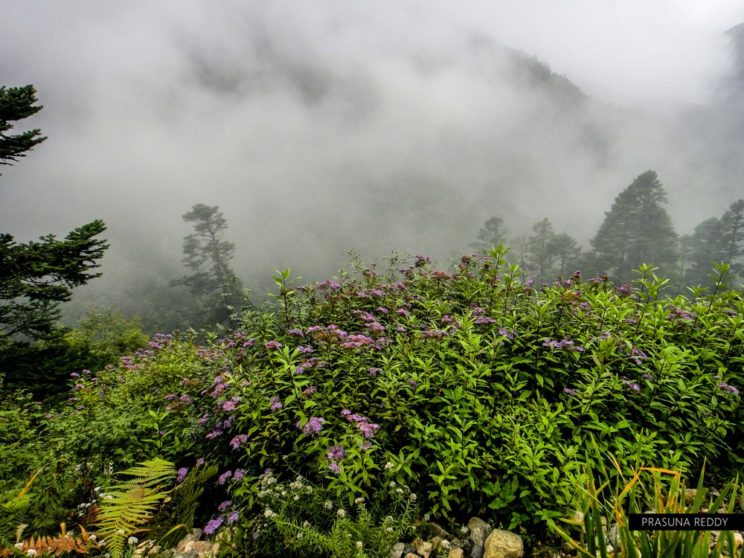 A friendly shopkeeper suggested Kalapattar. I prayed like never before and someone up their answered. The owner helped me sort out all the necessary gear in a matter of an hour. I left the shop, renting a down jacket and sleeping bag (both new) with a deposit of NPR 5K and rental of NPR 100/day for both, and buying trekking poles, crocs, thermals, fleece jacket, water bottles, gloves  etc.
The next stop was the supermarket, stocking up on energy bars, trek route map, Diamox and water purification tablets (both of which I didn't end up using).
I packed by 3 am, and tried to rest. But excitement kept me awake.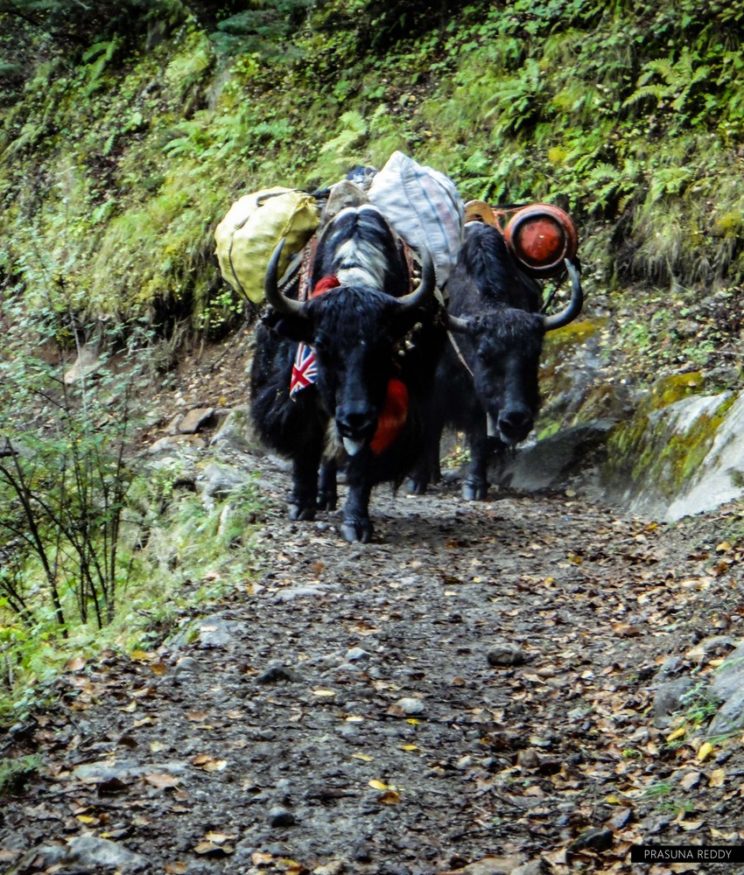 Day 1: Fly to Lukla (2840m) and trek to Phakding (2610m), find a guesthouse, eat and sleep!
By 5.15 am, we were in the cab, tired, sleepy and excited. …
Airport looked like a small bus stop with a large waiting hall. Luggage checked in, boarding passes in hand, we head to the waiting hall. 3 hours later, we are still waiting. Lukla airstrip is the smallest making it one of the most dangerous airport, which is also why a weather check is necessary for flights to take off. We heard random whispers among airline staff of zero visibility. Fingers crossed again!
2 more hours and we were in the flight amidst a lot of cheering and relief.
Only much later we found out that our flight was the last that day! Those who couldn't make it on those first few flights had to wait 5 days. And here I was thinking of lost sleep waiting in the hall.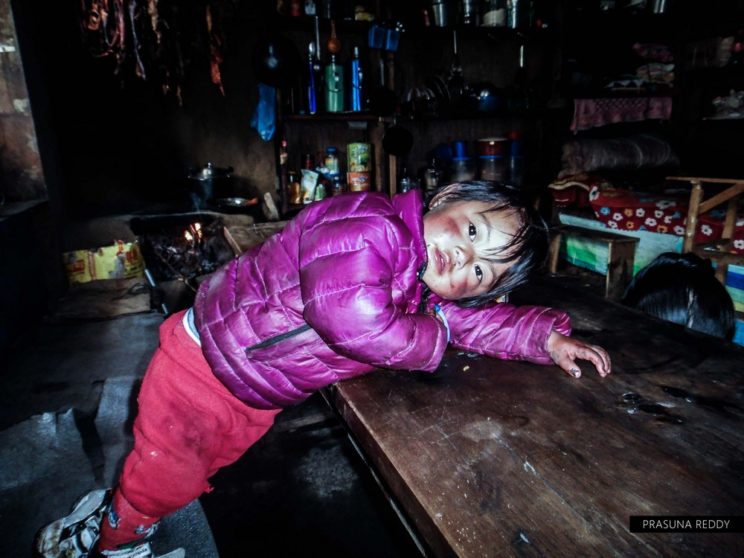 The small town is filled with trek gear shops, guest houses and cafes. Their main source of income not surprisingly is tourism. As we browsed through the shops and stocked up on any remaining necessities, a chook flew from a roof right into Beth's face. We hit the floor laughing.
We tried to draw cash from the only available bank, and the lady informed us that there was a 5% surcharge. She confirmsed that there are ATMs in Namche, so we deferred the task for Namche.
After registering the trek at Lukla police check post, we were on our way. Although it started drizzling, weather was perfect. And for all the talk of altitude, it starts with a descent, which I honestly didn't mind. Surrounded by greenery, we walked past picture perfect villages with stone houses, variety of flowers, children waving on stone paved paths.
3 hours later, we checked into a beautiful guesthouse in Phakding, settled in and sat in the restaurant with our respective books ("Into Thin Air" which another friend gave me just for the journey).
There was another large group that joined. We had a couple of doubts on doing Gokyo Ri in our timeline and thankfully their guide confirmed that we should be good for it.
I went to bed feeling quite optimistic, which was going to be short lived!
Day 2: Trek to Namche Bazar (3440mm). Stop for lunch at Jorsale. Try not to give up!
We knew today was going to be a long trek and wanted to start early, but we couldn't get out until past 8 am. Trek started with a climb on a stony path which isn't easy when you haven't warmed up. There was a fork in the road and neither of us had any idea. We had our dumb moment and assumed that the steeper climb on left was more likely given Namche's altitude.
Fortunately, we didn't have to turn back, and it did lead us to Monjo, albeit on a longer less traveled path. !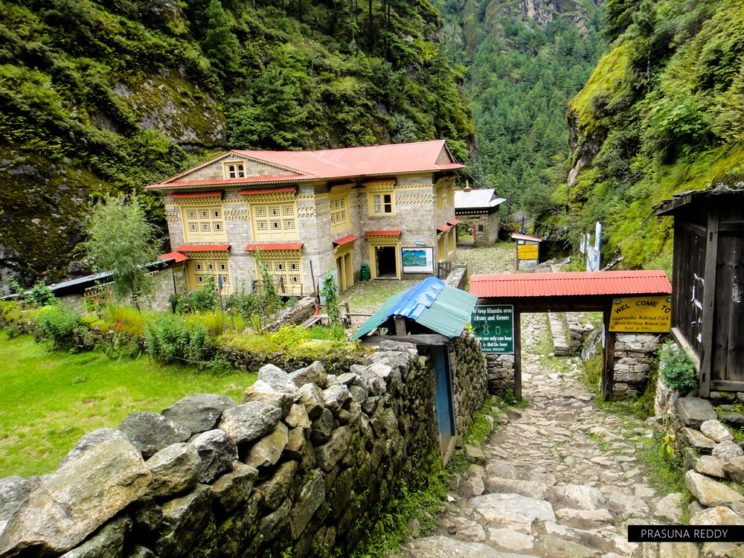 At the entrance of Sagarmatha National Park in Monjo, walking past colorful paintings and rotating prayer wheels in a clock wise direction, we made our way to get the entry permits.
Having decided earlier on to make it to Jorsale for lunch, we didn't stop at Monjo.
After a long wait for lunch, refreshed by dal bhat, we started our uphill climb to Namche. This is where you cross the Dudh Koshi River and enter the Everest national park on a long suspension bridge.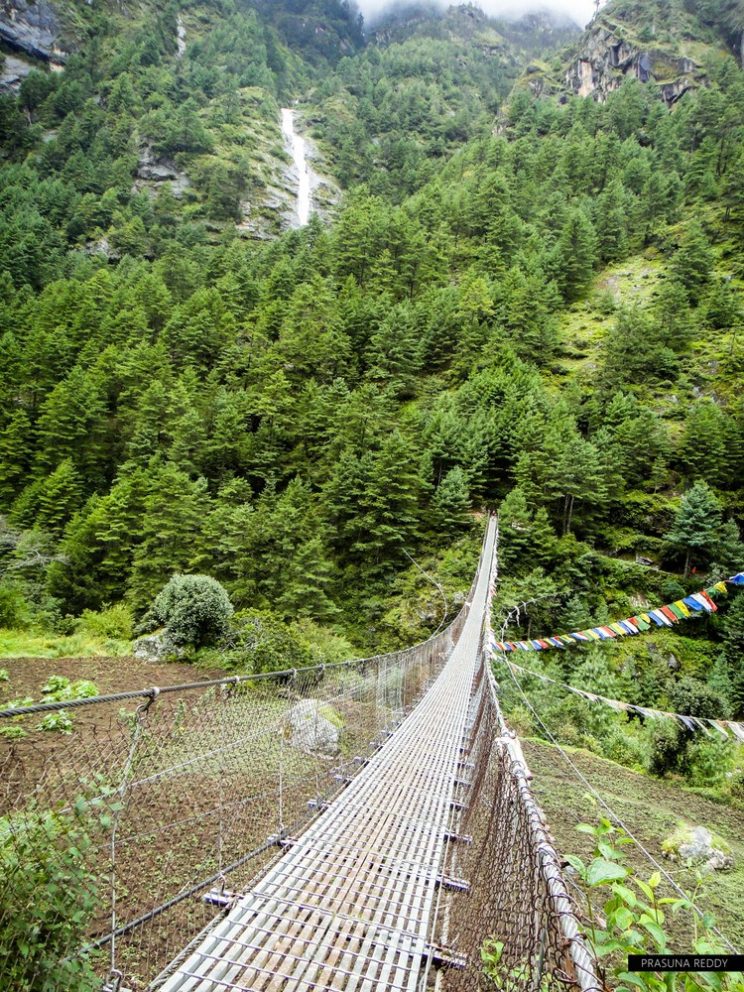 While the trek was very scenic, it certainly wasn't easy. We climbed on for hours and it was steep without any respite. We followed what the porters did. Walk and rest. With a heavier backpack, weighing apprx 15kgs, I could barely keep up. What was I thinking!
Once we reached the guest house, I forced myself to eat and soup was all I could manage.  For all the exhaustion, sleep didn't come easy either.
Day 3: Trek to Everest view hotel and return to acclimatize, decide on EBC trek path, find ATM and relax in the evening.
We had three key tasks on hand
Route: Having heard about the beauty of Gokyo, we really wanted to take the longer route to EBC via Chola Pass. But couple of trekkers warned us that visibility on the pass was zero, and snow more than knee deep, making it a challenge even for trekkers with guides. Faced with no choice, we decided to try Chola Pass route on the way back.
ATMs – We  found out that they haven't been working in Namche for 6 months. Surprisingly, the cashier in Lukla missed telling us this part. It meant, paying a higher percentage to draw money from a finance exchange place.
Trek to acclimatize. Yes! even though we were staying in Namche the night, we still had to trek to acclimatize, although I was happy that we would be trekking sans backpacks.
After the initial climb on a stony path, we trekked the muddy path, ascending slowly. Horses and cattle lazed around on this misty green land.
If ants raced with me, I am sure they would have won 3 times over. And headache nagged both of us. We reached a lone guesthouse at 3478 m and decided to have tea, which ended up being lunch. Given the lack of motivation to climb any higher, we descended.
Some trekkers of a group informed us that our accommodation was much better than what they were offered. We realised that not going for a packaged tour worked in our favor.
Day 4: Trek to Tyangboche (3840 m)
Another morning of packing ourselves in layers of clothes, repacking our bags, and starting on a steep stony path through the lanes of Namche. Once we crossed the village, the trail is gradual and much more comfortable. We have become used to rotating the prayer wheels along the way, giving way to yaks and porters, watching prayer flags flutter, and greeting with a Namaste to people on the way.
At Phunki Thenga, we stopped for lunch. I was dying to have anything other than dal bhat by then, but I took the locals advice and stuck to it.  Post lunch, it was another steep uphill climb post, once again through the woods.
The acclimatization day hike seemed to have helped and for a change, I was enjoying the trek.
Once we checked into a guest house, I sat down reading by heater in the restaurant. We come across other trekkers who crossed paths several times by now. Some of them were interested in our idea of returning via Gokyo, but given their fixed schedule, it was difficult for them to change. Few were surprised that it was just Beth and me doing the trek on our own.
Day 5: Trek to Dingboche (4360m) passing through Pangboche
Morning greeted us with our first glimpse of Everest snowcapped peak. And what a sight it was.!!!!! It was enough to put a sprint in our steps even at that altitude.
Our trek was pleasant if a little muddy. Early morning dew made the leaves and even trees glitter.
Although, by the time we reached Shomare (4010 m) around midday, I was exhausted beyond belief. Another couple that we came across decided not to continue for the day. We unfortunately did not have that option.
The landscape was changing. Slowly, the green is being replaced by large patches of mud/grey as it got more and more dry.
I sat with my journal by the heater, along with the remaining trekkers we met on route. We didn't know them personally but we know them too in way. One of them had to have his clothes washed and dried by the heater every day. The other one was so quick that he made the trek look like a stroll in a park, a couple of them loved taking pictures etc
Although I went to bed early, I woke up in a hour, suddenly realizing I was not able to breathe. My nostrils were fully blocked.
Day 6: Acclimatization day in Dingboche. Hike as high as possible.
It was a beautiful clear day. We were surrounded by snowcapped peaks on all sides.  Fortunately there was no rush to get anywhere and we didn't have to carry our back packs once again.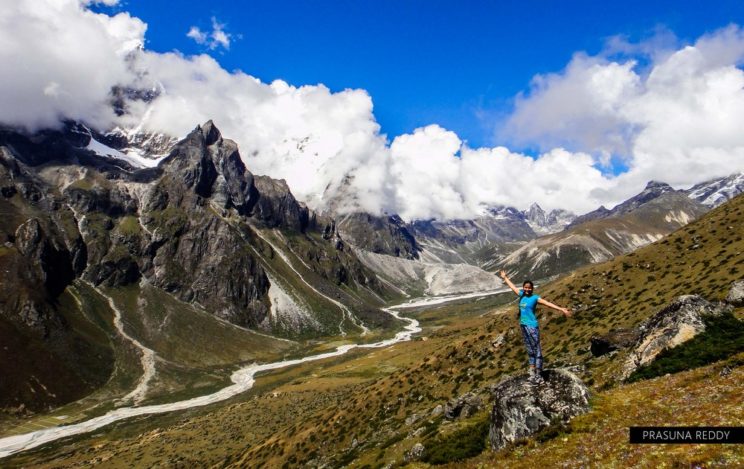 We climbed for a good 4 hours. By midday, it started getting cloudy. We realised there was no point climbing higher. I decided to sit where I was, while trekkers I was with headed down.
There was no sound other than the wind, and not a single being for miles around. It was just me surrounded by vast expanse of grey white peaks. Occasionally a cloud would clear disclosing a beauty – a heart shaped green lake immediately next to a smaller dark blue one. I sat there soaking the silence and view. Just as I meant to get up, there was one more lake further up on the other side. It was as if the clouds were revealing one beauty at a time.
After an hour or so I started descending, feeling the beginnings of another headache. I wondered if it would have been easier if I just used Diamox (for altitude sickness) but there didn't seem much point taking it at this altitude.
Back at the guest house, I decided to splurge and have a shower. Yes, a shower is a luxury on this path. Drying my hair by the heater (long hair is a bane for trekking), I continued reading the book. A group of them played cards on another table. Few of them just talked, some were drinking despite the suggestion not to, some reading etc. It was pretty cool winding down with people, all on the same adventure.
Day 7: Trek to Lobouche (4940 m)
If there was one thing that was easy on this trek, it was waking up…. Insomnia comes quite naturally!
It was now completely a barren path surrounded by peaks all around and an occasional small stream. It was a nice and clear day,  but quite chilly even when the sun was up.
After Thukla, the climb was steep once again for over an hour. Once we reached the top, we came across memorials of ones who gave themselves up on their quest to summit the Everest.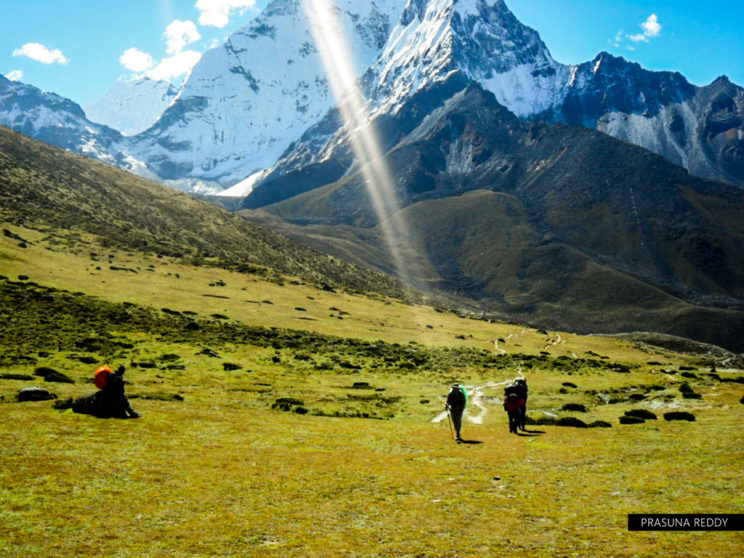 By the time we reached Lobuche just after midday, I had a headache, not surprisingly and several knots in my neck.
Day 8: Lobuche to Gorak Shep by noon. Head to EBC and return.
Today was the first day where I didn't stick to the plan. Even as I started the trek on a rocky path, I was tired and sick. By now, the lack of appetite, sleeplessness are catching up along with the constant cold and headaches.
When we reached Gorak Shep, the smallest town with only two or three guest houses, we are surrounded by mountains big and small in all directions.
Post lunch, when everyone else left for EBC, I decided to rest and asked Beth to go ahead. Around 3.30 pm, I felt better enough to consider trekking to EBC but it was too late.
The fastest trekker returned by 4 pm, but for a change, he looked exhausted too. And the expression on each one of them confirmed that it was best I stayed back.
Day 9: Trek Kalapattar (5545 m), return to Gorak Shep, have brunch and trek Everest Base Camp (5364 m), and stay alive!
A group of 5 of us assembled at 4.30am outside the cottage and started the steep trek to Kalapattar. It was pitch dark, snowing and vast as we trudged on. The last 50 to 100 m was tricky with ice covered rocks. While some decided not to bother, which made sense, I couldn't not make my way to the top where I joined Beth along with another trekker. Everest was unfortunately clouded, but we were at the highest altitude for this trek.
After waiting an hour for clouds to lift, I started descending.
Breakfast once again was impossible. I tried, gave up, and started alone on EBC trek. On this track, it was easier to be lost if there was no one around. Fortunately, there are a lot of people, and I was glad to join a South African couple trekking with their own guide and porter. With my current reserves of energy, I couldn't afford losing my way.
We were now walking on the glacier. There were massive tarns everywhere. Every now and then the roar of avalanches resonates all around. It was a different world.
As soon as we reached EBC, it started snowing. We sat by a rock absorbing the beauty. It was freezing cold, but I was so excited that I took off my layers, which were too many  – cardigan, fleece jacket, down jacket, rain coat, gloves etc.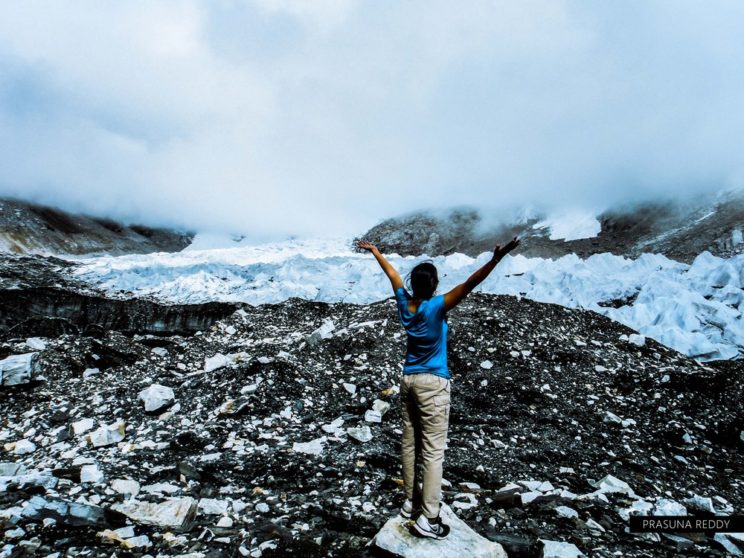 As we started getting ready to begin our long way back, I turned around and saw Pasang (the couple's guide) offering prayers with flowers at EBC. He later told me that next spring, he is joining the climb to summit. I was pretty awed. I didn't even want to imagine the kind of determination and strength one needs to climb Everest. [I only pray he is safe following the massive earthquake that April]
The last couple of hours were probably the hardest, and I kept telling myself one foot in front of other. I trekked both Kalapattar and EBC the same day, and when I got back to the guest house, I had all but collapsed. Beth tried to get me to eat dinner, but I couldn't eat.
Day 10: Head to Dzongla through Lobuche
We had the option of going back the way we came, which would be an easier 3 days trek, as opposed to another 6 days heading to Gokyo through Chola Pass. While both of us were beyond exhausted, we also didn't like the idea of going back the same way. So we decided to head to Dzhongla. Our plan was to find a guide to help us cross Chola Pass, and if we weren't lucky, we would turn back.
Now that we were moving away from the more popular route, the first thing that hit us was, there was no clear path. The directions weren't much help. We yelled out at a fork to a trekker on a different path to confirm if we were on the path to Dzongla. He yelled back that he got lost at the exact same point 17 years ago!
For the next 4 hours, as we trekked, we hoped to come across at least one person. We didn't, not even an animal.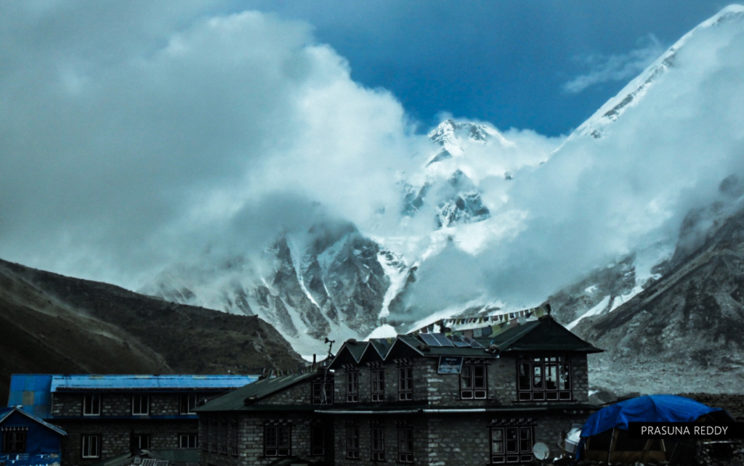 There were several forks and we made random decisions. As it started getting darker, I kept looking for a big boulder that would shelter us for the night if we didn't make it. I had a sleeping bag and hoped we both could fit in and rest for the night. Beth was in her mind thinking the same!
We crossed a few streams and kept walking. An hour before sunset, we finally saw another human being. Hallelujah!
He was Nuru, owner of one of the guest houses in Dzongla. As soon as we reached his guest house, he made a hot chocolate, showed us a place to dry our clothes and gave us a beautiful room…We sat in leisure having dinner (me still struggling to eat a quarter of my plate).
We had no idea if weather would allow us to cross Chola Pass, so we made a plan with Nuru. If weather was good, he would wake us up early and send his kitchen help with us to cross the pass. We would pay him for half the day for guiding us through the pass. If weather wasn't good, we will return back.
Day 11: Cross the Chola Pass and reach Tragnak (Dragnak)
Nuru knocked the door early in the morning. It was something both Beth and I were half hoping was not the case. I followed him outside into freezing cold and yes, it was perfectly clear. We were now covered by the peaks.. A half crescent moon  against the blue sky in the backdrop of snow capped peaks was a beautiful sight. A little later, as the sun rose, gold illuminated across all the peaks around. The sheer beauty of it is exhilarating.
Beth as usual packed up in minutes. But today, I was as clumsy as any human could ever be. My brain seemed to struggle even with the most mundane tasks. It only occurred to me much later that it was also a sign of altitude sickness.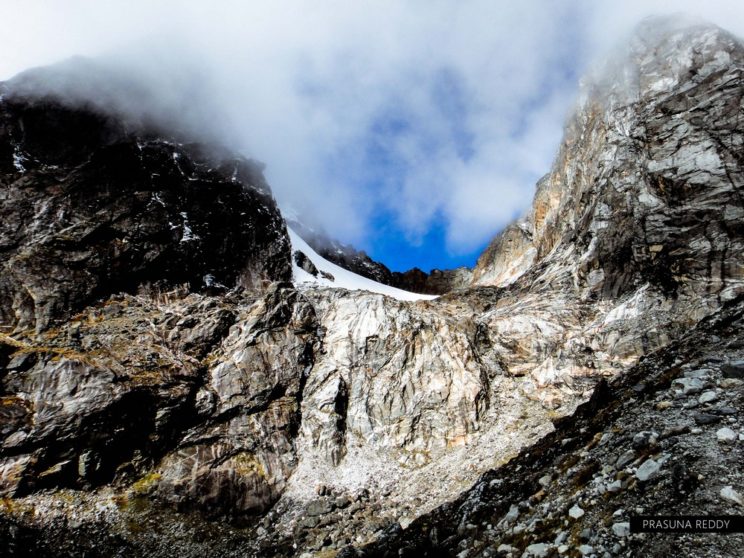 We dragged our feet in exhaustion unable to believe that we are actually doing this to ourselves. But on the bright side, it was a beautiful day and we had Nuru's kitchen help was our guide and porter. There are no words though to describe the beauty of the place. Randomly, green and blue lakes came into view, and just the vastness of it all.
After what felt like a long walk, we were near the rocks we knew all along that we needed to climb. Some rocks were massive enough for us to use both hands.
And then we saw the pass that we were meant to cross. A spotless white, soft, cushiony blanket of snow as far as eyes could see.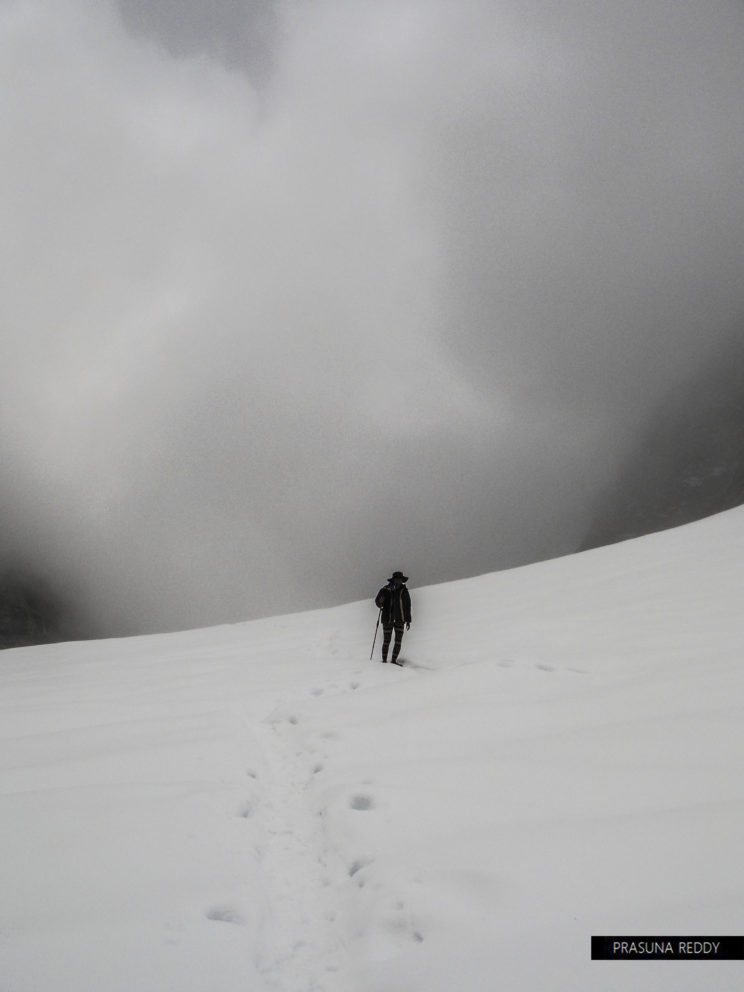 Being in runners is obviously a bad choice for hiking a pass. Snow in some places was more than knee deep. When Beth and I discussed crossing the pass, I insisted that we shouldn't do it if we didn't find a guide. And it proved to be right. There was no way of knowing which way we should walk on that white sheet of land even with clear visibility, and we certainly had better chance at drowning in a tarn.
This was also one part of the trek where I temporarily forgot how tired I was. The beauty of this place was so incredible that for once in days, my brain stopped registering the fatigue and pain. We walked across this thick blanket of snow for not sure how long. At the end we came across a drop off into a tarn. I couldn't believe how easy it would have been to just fall into that pool had the visibility not been so clear. But it was such a beautiful sight.
And then the hard part started. Descending on the other side on solid icy rocks.  Unlike the snow, a fall in this place could break your ankle or neck. I had skidded enough times to know that balancing my back pack on this would not have been a good idea and once again I was glad for the guide/porter.
As soon as we descended the icy rocks, he left us and went back. We sat down, trying to digest the fact that we now had half of the trek ahead of us carrying the bags.
What we thought was one hill that we needed to cross ended up being 4 or maybe 5 hills, which meant we had to keep ascending and descending to even get to the beginning of the trail. After an hour or so, we saw the board which said 'Tragnag' which fortunately meant we were on the right track. There was still a lot of climbing although not very steep.  Another couple of hours into it, all my reserves of energy disappeared.
We came by the stream on one side and a hill with stones that looked like they could roll over anytime on the other side. Every corner we thought this was it, and it wasn't. Finally after the longest of days, when Beth said the village was ahead, I didn't even have the energy to be happy.
Day 12: Tragnak to Dole
It was a beautiful clear day. Although we earlier decided to go to Gokyo if weather was good, neither of us was up for it. My shoulder was sticking out and Beth's ankle was in bad shape. We no longer had the energy to enjoy anything beautiful at this point, so we decided to descend.
There was no clear track though for the initial part and although thanks to a local who showed the way, we still managed to get lost and trek half hour on a wrong route.
The sight was beautiful. Milky white water flowing through smooth stones, mountains, flags and just us two. If one needed to spend time by themselves, this trek is as good as it gets.
We stopped believing locals when they said it was all downhill, it never was. The uphills and downhills were a permanent feature, the only difference being how steep or how long they lasted. I started craving to walk on smooth ground instead of rocks, which were not much fun when you have an altitude headache and you are trekking in runners.
At Machermo, we descended directly into a beautiful guesthouse that had a sign pointing the way to Namche. The interior was lined with colorful paintings. The place had such beautiful character, and I would have loved to stay. But we craved getting back to sea level.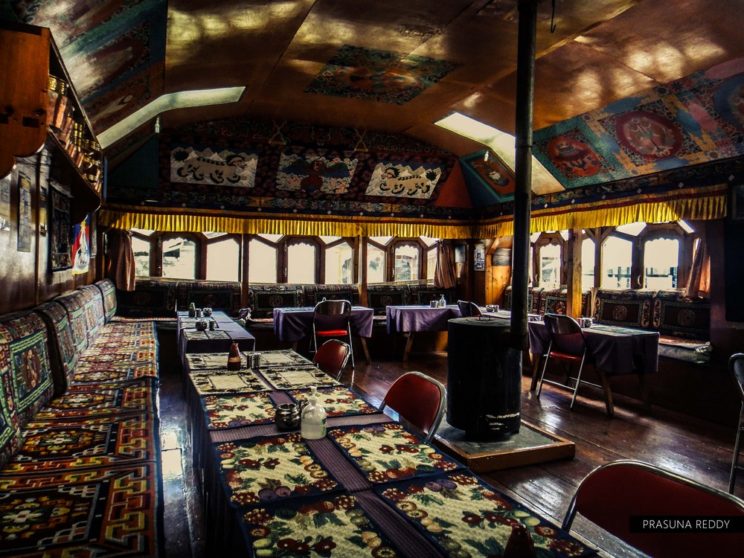 We checked into the first guesthouse we saw in Dole. By now, my shoulder is in considerable pain and I knew with certainty that something was wrong. One of the guides from another group thankfully offered me some ibuprofen.
Day 13: Trek back to Namche
When I had a pancake, I couldn't stop smiling. Finally, I could eat again.
The trek got easier than before, probably because of drop in altitude. I wasn't dragging my pace anymore and felt like I was finally walking and not crawling. We stopped at Phortse Tenga for tea and had the last cookie that was left over.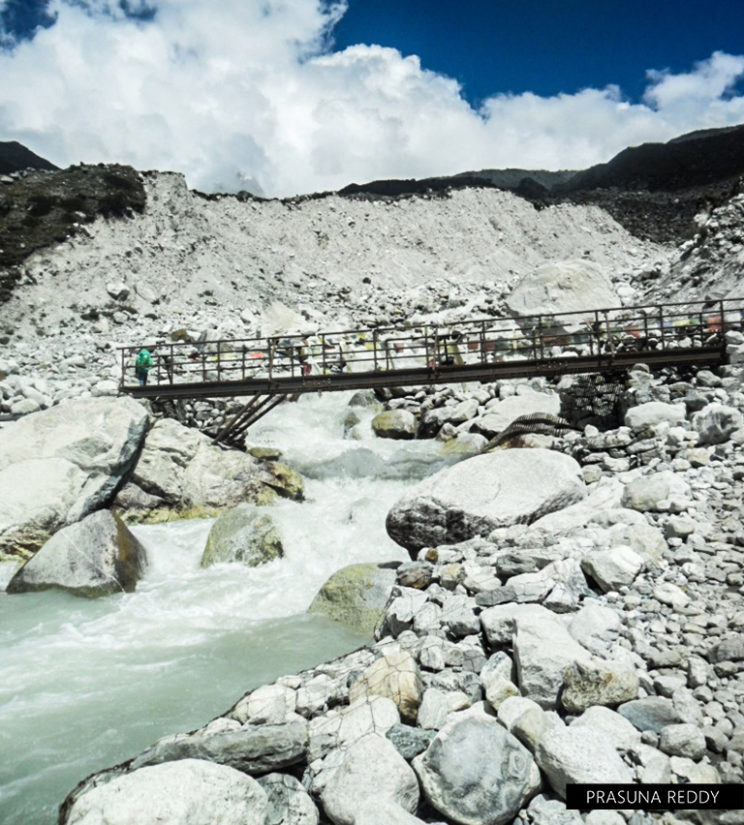 With ongoing uphills and downhills, we made it to Khumjung by lunch time. Post lunch, it was back to one foot in front of other. And finally, we were in Namche.
As I climbed the steps to our room on 3rd floor in the same guesthouse, I can't even use the word exhausted anymore. Once I freshened up, we were back in the restaurant that we left 10 days ago, but what felt like weeks. I collected my luggage that I left over earlier. The knowledge that my bag would be heavier again by 4 kgs on a bad shoulder was worrying but I didn't have energy left to worry.
Day 14: Namche to Lukla
It was going to be the longest day and we both needed as early a start as possible. On way up, we did the journey from Lukla to Namche over two days.
When we reached Phakding, I was surprised that we did make it by lunch time as we hoped to.
The rest of the journey was exhausting physically, mentally, emotionally. At some level, I enjoyed seeing the flowers and villages once again as I dragged myself hour after hour on a constant uphill climb. The times we got from different people varied from 15 minutes to 2 hours. I wondered if Nepalis amuse themselves with prediction of time.
The relief we felt as we reached the top is something there are no words for. Just the fact that we reached gave me a new lease of life and some hidden energy. We stayed in the same bakery where we ate a burnt pizza before leaving.
And the burger for dinner was certainly the most delicious burger I ever ate.
Day 15: Lukla to Kathmandu
Early in the morning, we headed out to the airport, with a dose of hot chocolate. Fingers crossed once again, we waited nervously, hoping for the weather to be clear. Finally sitting in the small flight, we headed back to Kathmandu with a ton of memories of the most exciting, exhausting, exhilarating and emotional journey.