The trek to Everest Base Camp happened on a whim! We bought/rented all trekking gear 11 hours before boarding the flight to Lukla, had no itinerary other than a map from supermarket, no guides, no porters and no trekking shoes either. It was just me and another crazier girl from Australia, and we've known each other a month.
While the original plan was to chill in Pokhara, one fine day, sitting in a cafe lining the Phewa lake, we decided to trek Everest Base Camp…just like that!
Surprisingly we did it and I can't stop myself from bragging about it endlessly!
While we did our quick research, there were several questions to which we didn't have answers, like 'are there atm's on the way', 'is chola pass possible in the time we had', 'how much money should we carry' etc. So this blog is my attempt to provide some answers to the craziest trekkers who find themselves in a similar situation.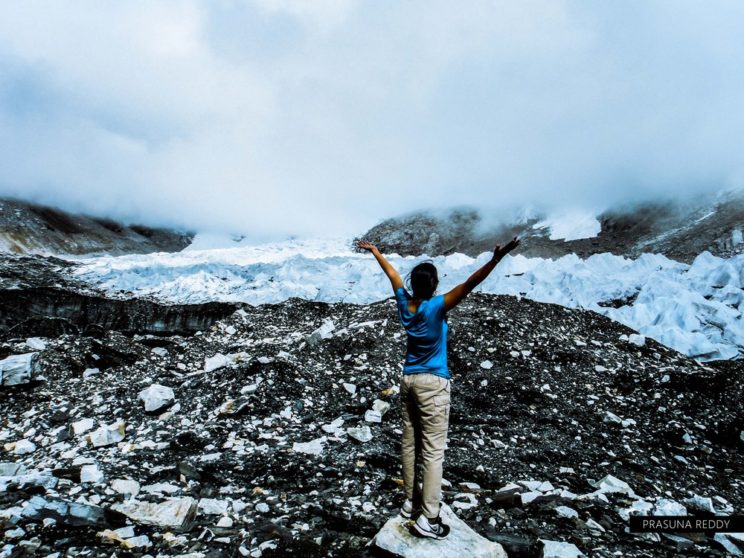 First and Foremost – The itinerary*
Unlike most trekkers who start with an itinerary, we had one in the end.
Day 0 – Reach Kathmandu (1400m)
Day 1 – Fly to Lukla (2860m) and trek to Phakding (2610m)
Day 2 – Trek to Namche Bazar (3440mm)
Day 3 – Acclimatisation Day in Namche. Trek to Everest View Hotel and return to Namche
Day 4 – Trek to Tengboche also known as Thyangboche (3867 m)
Day 5 – Trek to Dingboche (4530m) passing through Pangboche
Day 6 – Acclimatization day in Dingboche. Trek to the highest possible altitude and return
Day 7 – Trek to Lobuche, also spelt Lobuje (4940 m)
Day 8 – Trek to Gorak Shep by noon (5164 m). Head to EBC on same day (5364 m) if possible
Day 9 – Kalapattar (5545 m) and EBC if not already done (5364 m)
Day 10 – Head to Dzongla (4860m) through Lobuche
Day 11 – Trek through Chola Pass to Tragnak (also known as Tagnak, Thagnak, Dragnak  (4700m))
Day 12 – Tragnak to Dole (4038m)
Day 13 – Dole to Namche (3440m)
Day 14 – Namche to Lukla (2860m)
Day 15 – Fly from Lukla to Kathmandu
If you are interested in the detailed account of our trek, please read "an unplanned trek to everest base camp/kalapattar/chola pass – the full story"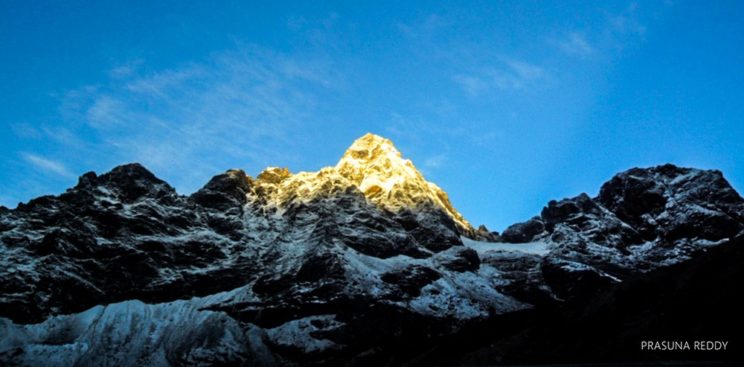 Questions answered
1) First and foremost, how to go about the trek? Agency, Individual guide/porter, or do it all by self?
Given our limited budget, the only option for us was to go by ourselves. No guides, no porters, just us. Although, we did end up hiring a guide/porter for half a day in Dzongla to cross Chola Pass.
But if you do have some budget, you could hire a guide/porter on a daily charge basis from Lukla. Reasons:
Flexibility with itinerary, pace, starting time each day and being able to choose your own accommodation, compared to booking a fixed schedule through agency.
If something were to happen, i.e. altitude sickness, spraining an ankle or knee, they know what to do.
There is a limited window for guides/porters to earn, specially after the massive earthquake. Whatever you pay would directly be the livelihood of a family.
And it still is cheaper than paying an amount to the agency for a scheduled trip.
2) How clear is the trail?
During the season, it is quite hard to lose the trail on the more popular route (Lukla-Phekding-Namche-Tengboche-Dingboche-Lobuche-Gorak Shep-EBC).
But if you do plan to include Chola Pass/Gokyo Ri, the trail is not quite as marked. There were several times where we didn't know if we were on the right path nor met another living being. And I certainly wouldn't recommend crossing Chola Pass without a guide.
3) What is the weather like?
We trekked around end of September. It was cloudy or slightly drizzling on some days. Generally hot during the day and extremely cold at night as you go higher.
4) How much cash to carry?
It depends on how good you are at rationing. The absolute minimum is NPR 2000 per day. Accommodation is not very expensive for a common room with shared bathroom.  Expect to pay NPR 200-300 at most places.  Most guesthouses require you to have meals in their own restaurant and charge extra for room if you choose not to have meals. Expect to pay average of NPR 600 per meal. Food and bottled water get expensive quite expectedly as you go higher.
5) Are there any ATMs on the way?
There is a bank in Lukla that provides for cash withdrawals at a charge (approx 5%). Although Indian card holders need to check if their card works in Nepal. Some cards  do have a written term that it can't be used in Nepal/Bhutan.
Although there is an ATM in Namche, apparently it hasn't been operational for months due to no electricity. Our only option was to draw cash through forex store paying a 10% surcharge.
6) Buying or renting trek gear?
Kathmandu is flooded with options to rent/buy trek gear. I read great reviews about Shona's rental, but was seriously disappointed. I rented a sleeping back and down jacket from Kalapattar trekking gear shop, near Kathmandu guest house. The gear was practically new and at one-fourth the cost of what Shona's were going to charge me.
Most of the trek gear, i.e. poles, water bottles etc are cheap and best to buy rather than rent. You could always give them away to porters if you don't plan on carrying them back home.
I used my runners and Beth used new trekking shoes, and we didn't have any major issues.
7) What route to take?
There are two widely used options:
Shorter and more widely used route to EBC/Kalapattar which could be done in 12 days.
Longer 16 day route which includes Chola Pass/Gokyo Ri.
Although most trekkers do the route 1, to and fro, I am glad we did a circuit. Taking the popular route to EBC/Kalapattar and then returning via Chola Pass.
8) Where to start?
Booking flights through travel agency from Kathmandu to Lukla and return for an estimated date [USD 330**]. Indian nationals are charged less though.
9) Permissions needed?
We got the TIMS permit for USD 20** through the same travel agency. National park entry permit can be taken on route at Monjo for $35**.
10) Insurance?
We've seen enough people being airlifted to know that we were just lucky. We also saw a woman visibly sick descending by foot (who probably didn't have insurance).  Altitude sickness is real. Although we didn't get sick to the point of descending, we did suffer our share of symptoms.
Make sure to get insurance that covers altitude of over 5000m
11) What to do on Acclimatization Day?
Make sure you do a short trek to a higher altitude and return.. I could feel the difference the next day. Although at the same time, don't over exert yourself too.
12) Storing luggage at Kathmandu?
Most hotels offer to hold luggage for trekkers so we didn't have any issues.
13) Should I take altitude sickness prevention medicine?
Although we didn't use any on this trek, if I trek this altitude again, I might use Diamox or something similar. If you intend to take any, please consult your physician.
13) Some key points.
Flights between Kathmandu-Lukla depend highly on weather. It is not unusual for travelers to wait for days to take off. Ensure your visa remains valid.
Buy water purification tablets in Kathmandu. We couldn't find them once we reached Lukla. If possible, buy all essential items in Kathmandu.
Indians don't need visa to enter Nepal, however, it's best to carry your passport, specially when flying to Lukla to avoid any last minute surprises.
Finally…What to pack?
Well worn in hiking boots and extra pair of sandals for evenings. In saying that, we did it without hiking boots, so you'll be fine if you just have your runners like me.
Good quality raincoat and plastic wrap for the backpack (really important).
Sleeping bag
Down Jacket
Fleece jacket
Light weight track pants. For ladies that are wondering if leggings are acceptable, they perfectly are.
Warm socks and cotton socks
Beanie/Hat/Gloves
Two leak proof water bottles
Torch
Camera (with spare batteries if possible. You will be paying to charge the devices as you go higher, sometimes as much as NPR 500 per hour)
Ipod/mp3 player (trust me, this is a must have)
Walking stick (don't take this lightly)
Knee support pads (must if you have any knee issues)
Water purification tablets/tang for flavor.
Snicker bars/Energy bars/mini chocolates/cookies/Tea bags
Medication as per physician's advise: Anti-inflammatory pills i.e. ibuprofen, Painkillers, Cold and Flu tablets, altitude sickness prevention medicine, along with your usual medication.
*altitude is from various sources on web, primarily Wikipedia. ** Prices in 2014