Once upon a time, the small village of Yuksom faced a severe food crisis. People fought with each other as they struggled to cope. A Shepard realised something had to be done. He took his sheep and embarked on a journey in the Himalayan region, towards Jamathang.
He was starved, exhausted and just when he could no longer carry on; he saw a 'door.'
Relieved, he walked in. His eyes immediately fell upon the variety of fruit and food.  People that greeted him were kind and goodhearted. They fed and nurtured him back to health. When he recovered, he asked for leave so he can get back to his village. An old lady gave him rice for the villagers. He anxiously asked how he could feed an entire village with just a kilogram of rice. The woman assured him that it would be possible.
He quickly returned to his village, cooked the rice and began to serve it to others. No matter how many people he served, the rice never ran out. The entire village ate a sumptuous meal.
Fulfillment was soon replaced by curiosity. Villagers probed him with questions, eventually threatening to kill if he did not disclose the secret of rice. Soon they were on the same journey. Only this time, they couldn't see any door!
'Why couldn't they?' I asked my guide Buddhis as I struggled through the steep climb to Tshoka.
"Because only people following the path of truth can see the door," he replied. "You know, I've been there so many times, and even I didn't see it. Seems that I am not pious either!" he lamented.
I have no illusions of my own piety and knew I could do with a prayer or two! Although my reasons to trek to Goecha La, loosely translating to 'the Pass to Heaven' – were different.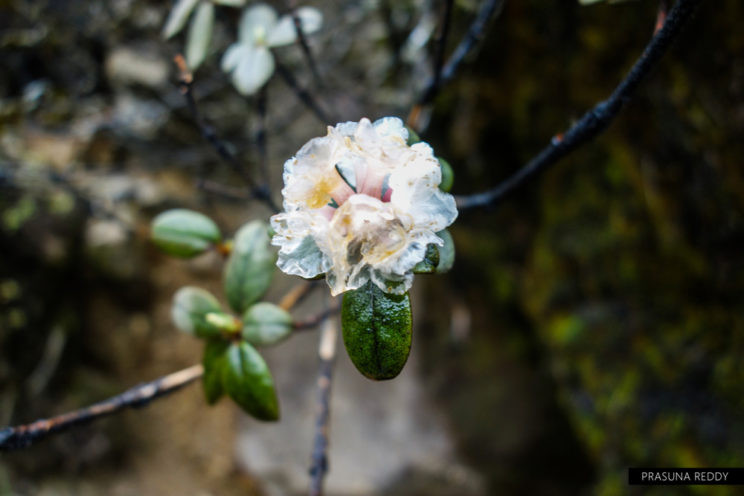 The Beginning!
Rewinding a few days: I was driving through rush hour traffic or rather waiting behind another car for over 20 minutes, when I had an impulse to throw the phone, bury the laptop and get out of the concrete jungle. I wondered where to? A memory surfaced that seemed to be from another lifetime. I sat on a rock, high above Dingboche, surrounded only by mountains. Clouds chose to reveal one beauty at a time, a snow capped peak, a green lake, another lake, this of indigo blue and so on. The memory was so vivid as though it happened yesterday!
Instinctively I knew my next destination. The Khangchendzonga! But unlike the trek to Everest Base Camp, I chose to see Khangchendzonga through the Goecha La trail!
And so, I packed my backpack and boarded a flight to Bagdogra, ignoring the fact that I hadn't worked out in a long time. At Siliguri bus stand, I was herded into a shared taxi to Jorethang. If you are not familiar with these taxis, they can fit 10 anorexic models along with the driver quite comfortably, so the driver will wait hours until it is full.
I was concerned about missing the connecting taxi in Jorethang, since the last shared taxi leaves by 1 pm. A kind driver I managed to get hold of on phone agreed and waited over an hour, along with his passengers. "I only wait because you are a woman, traveling alone. I didn't want you to face problem" he tells me amidst my apologies to fellow passengers.
Late afternoon I reached Yuksom, a quaint town in western Sikkim, which translates to "the meeting place of three learned monks". Buddhis would later tell me its story.
A difficult start
Trekker huts along Goecha La trail are not equipped, so all supplies for the trek need to be carried along. That put an end to my dream of trekking independently. I engaged a local company that promised to organise everything for a fixed daily price.
Even before I commenced the trek, it was delayed because two Ukrainian trekkers that the owner expected would join us could not. Although I paid after confirming I could trek solo, he delayed my trek offering a guided day trek to Khecheopalri Lake as consolation. It was a beautiful trek and by no means just a warm up trek that I hoped it was.
The following day, I was on my way to Tshoka. Fifteen minutes into the trek, I realised something was amiss. There were no food supplies, tents, pack animals like yaks or even chefs to cook for us on the rest stops; Buddhis confirmed they were sent back because the two other trekkers could not make it. I knew I had been short changed but I was not about to go back.
An impossible climb
Day 1: Yuksom – Tshoka (3050 m – 17 km)
Walking past narrow lanes of Yuksom village, we reached the beginning of a well trailed path that led to Khangchendzonga National Park. In no time, I was surrounded by dense green forest, breathing untouched air, listening only to sounds of birds, and staring at tinted green/white water falls.
There were four bridges of various sizes along the path leading to Sachen Pass, followed by a steep uphill climb. I quickly congratulated myself on reaching the first bridge. My spirits were less upbeat as I passed over the next two. By the time I reached the final bridge I was asking myself, why, why, why?
The next time I want to go trekking, somebody please hang me upside down by my shoelaces on one of those unstable dish TV setups of a high rise building. It might be the only way I can recall pain, cold and exhaustion of a trek as opposed to dreamy visions I seem to hold.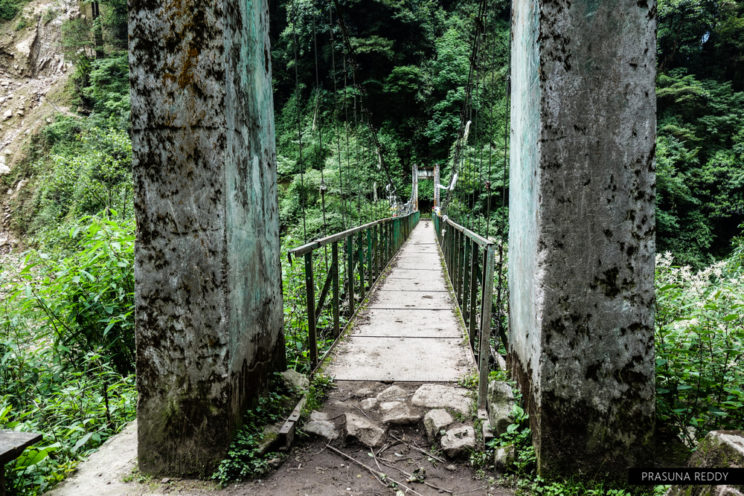 Climbing hour after hour, when weariness started setting in, Buddhis pointed to a Himalayan Monal that sat perfectly still, with a captivating richly colored blue body, orange tail and glittering green head. As though sensing my undivided attention, it showed off its smooth glide into depths of the valley.
After what seemed like an endless climb, we finally reached Tshoka, a small village with closely scattered wooden huts.
I joined a group of trekkers that were on their way back. Experiences were shared along with pain relief gels, over a local brew. A trekker gave me his headlight when he saw the mild torch I held, insisting I would need it.  Earlier in the day, a group of trekkers handed me their snacks when they saw me discard a packed lunch with meat. It seemed that I didn't need to reach the 'door to heaven' to meet good-hearted people.
A romantic trail
Day 2: Tshoka – Dzongri (4020 m – 10 km)
The uphill climb continued from Tshoka to Phedang, our first halting point. Dense green of woods gave way to a splurge of Rhododendrons. I found myself walking under a thick canopy of moist wood filled with variety of flowers, while a veil of dense mist enveloped everything. A mild drizzle was just the perfect addition to make it the most romantic trek!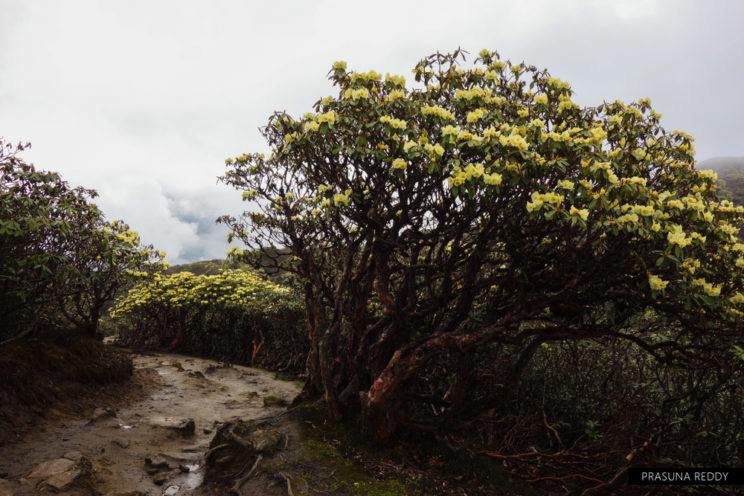 From Phedang to Dzongri, trek became steeper, if that was even possible. Was it the uphill climb or the beauty of rhododendrons? I could barely put one foot in front of the other.
Distracted by pieces of wood falling from a tree, I noticed a woodpecker busy pecking away, probably building its nest ahead of the monsoons. It worked with a discipline I barely possessed.
By the time I reached Dzongri, an all too familiar headache nagged. With an altitude gain of over 2000 metres in two days, it was inevitable. I had a garlic soup to help with acclimatization and joined another group of trekkers by a warm kitchen fire.
Doubts and Rhododendrons
Day 3: Dzongri View Point (Acclimatization day) (4250m) 
After a sleepless night, I struggled out of the sleeping bag at 3.30 am for a hike to Dzongri View Point. It was raining, and I slipped back in.
The persistent rain cast doubts on whether it was worthwhile proceeding further. Worse, the supplies and tents were yet to arrive, and I had no way of knowing if they ever would. I contemplated joining a large group of trekkers who decided to skip acclimatization and proceed to Thangsing, but decided to give it another day.
With nothing else to do, I joined a group of four, the only other trekkers left in Dzongri. They started as a group of seven to trek Goecha La with no prior experience. Two of them returned the first day quoting "you don't pay to torture yourself", which I must admit was a sensible point of view. One of them joined the large group that left for Thangsing and these four decided to return after Dzongri view point. I couldn't stop laughing as they shared their experience of trekking with one litre of water among all of them, running out the very first hour. There is no water on route from Tshoka to Dzongri, and I was dehydrated with two litres for myself, so it was admirable even if out-rightly dangerous that they made it to Dzongri.
Late that afternoon, we trekked through the tangles of flowers that filled the mountains and valley. There's no missing these flowers!
Thankfully, the two Ukrainian trekkers arrived soon after, accompanied by food supplies, chef, kitchen hand, porter, yaks and yak man. For the first time, I got to eat a meal that didn't involve Wai Wai or dal-rice.
First sight of Khangchendzonga
Day 4: Dzongri – Dzongri View Point – Thangsing (3930m – 10 km)
Once again, I struggled out of the sleeping bag at 3.30 am. Weather was perfect, almost as a reward for staying in Dzongri. A clear sky with a crescent moon and twin stars illuminated my hike to Dzongri view point.
As I waited on the top, first rays of the sun hit a lone cloud above the mountain. This was my first view of the majestic Khangchendzonga, a name that got me on this trek. Prayer flags fluttered all around, clouds hovered below, a range of mountains soared high, and rhododendrons lined the path.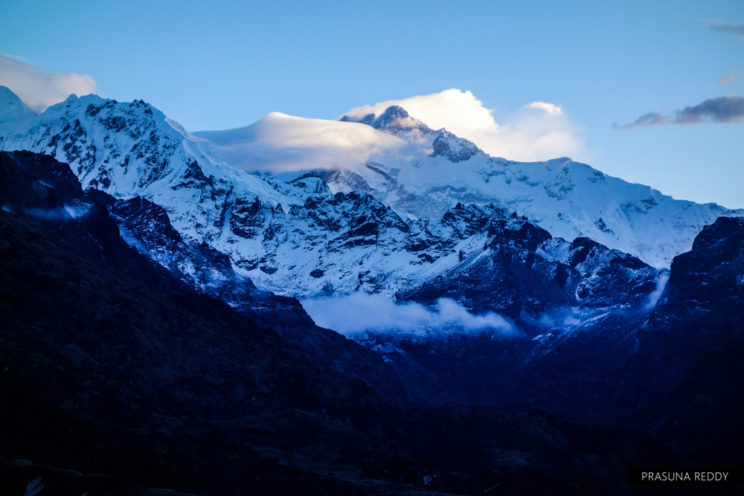 I tried in vain to stay warm as I stood rooted in place soaking in the view. Soon after, as I started descending, I came across a stunning view: a rainbow on a dense white cloud!
Following breakfast, I began the onward trek to Thangsing, while the two trekkers and team stayed behind to acclimatize.
Initial part of the trek was flat, but Goecha La seemed to enjoy teasing those who trekked up. Massive stones and rocks cover the path, which doesn't make for a comfortable walk when you are acclimatizing. This is followed by the steepest descent to Kokchurung. My immediate reaction was "do we have to climb this on the way back?" Thankfully response from Buddhis was in the negative.
From Kokchurung, the forest seemed to have become denser, with moss covered woods and yet more flowers.
Exhausted and hungry by the time I reached Thangsing, I winced at one more bowl of Wai Wai.  So much for the promise of a chef, three meals, snacks and so on.
Another majestic view of Khangchendzonga!
Day 5: Thangsing – Thangsing View Point – Lamune (4130m – 6 km)
I rushed out of the sleeping bag and tent when I heard someone say that weather was perfect. With no warm up, water or tea, I started hiking up to Thangsing View point. I didn't really mean to climb this viewpoint, but clear weather and snow covered mountains are an irresistible temptation.
Khangchendzonga is as clear and as captivating as it could possibly be, like a veteran assured of its' beauty. Another mountain on the right glowed in bluish tinge with early morning sun right behind it.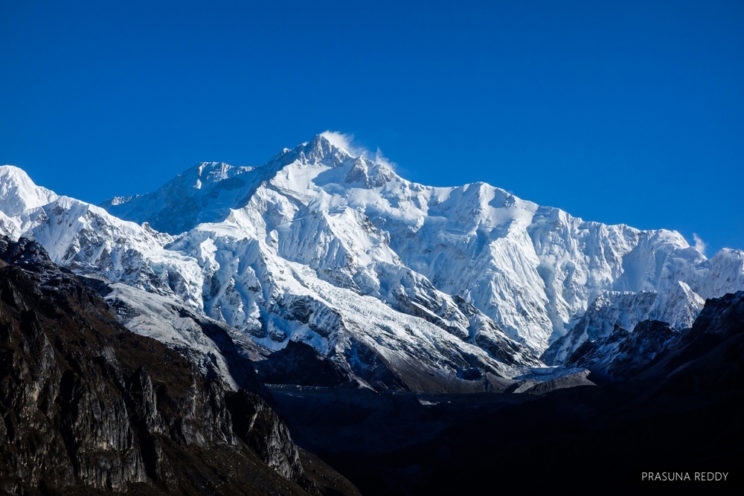 Upon descent, Buddhis shared with me that most trekkers don't bother with Thangsing view point but in his opinion, it gave the best view of Khangchendzonga! I couldn't disagree seeing the resplendent white beauty that it was.
By midday, rest of the team joined and we were on our way to Lamune, a relatively flat trek compared to the last few days. From the distance I could see my tent pitched next to the stream. I crashed into the sleeping bag as soon as I reached.  When I came out for tea, I wondered if I was dreaming. A large herd of 'blue sheep' grazed around the tents covered in mist. It seemed like a different world, one straight out of fairy tales.
A blissful day – Khangchendzonga again!
Day 6: Lamune – Goecha La – Kokchurung (4940m – 11 km)
The one thing I most looked forward to was sunrise on Goecha La, so we planned to leave at 2 am. Ukrainians decided to leave at 4 am and there were no other trekkers. Buddhis would later confess that he was nervous about just the two of us trekking at mid night. Maybe he secretly hoped I wouldn't wake up.
By 2.15 am, I started following the faint light of a headlamp into darkness. I was mentally prepared for a long haul. Fortunately, there was no wind and sky was clear.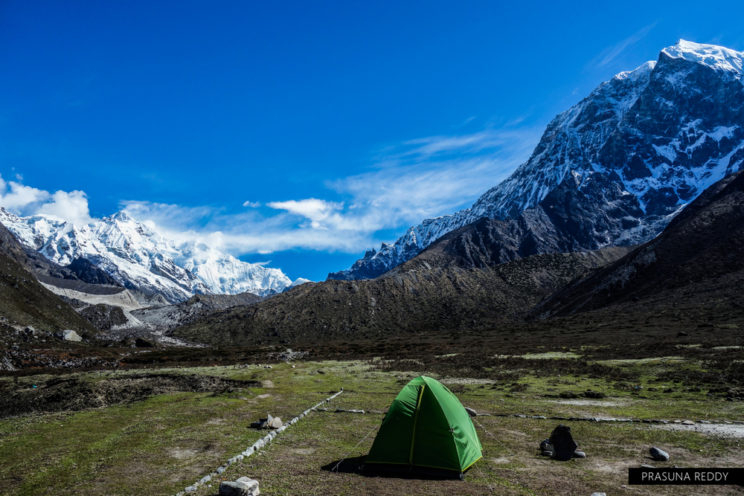 Before I realised that we reached, Goecha La range dramatically came into view in the glow of early dawn. First rays of sun hit the foremost peak of Goecha La range illuminating its snow covered peak in a faint orange glow. The rays slowly stretched themselves across the range. Watching the transformation happen was worth every step I took on this trek.
I climbed further to the view point where I could almost stretch my arm and touch the soaring Mt Pandim. Khangchendzonga, which was partly clouded cleared up, showing itself off once again. The door to heaven was right there! The one that led to an abundance of beauty and replenished the soul!
Our itinerary involved returning to Kokchurung for night as opposed to Thangsing, which meant no time to make it to view point 2. But, I was at peace. The view was much more beautiful than I could have imagined. I didn't feel like returning just yet, so I asked Buddhis to continue on the way back promising I won't be long.
Trekking in dark meant I had no idea how steep or long our trek was, but with daylight, the long descent loomed ahead. I distracted myself watching a tiny bird dressed in a suit of rich indigo hopping about casually.
An hour of walking later, I reached Sumiti Lake. Just when I thought my day couldn't have been better, I was in for a surprise. A picture perfect reflection of mountains in crystal clear lake!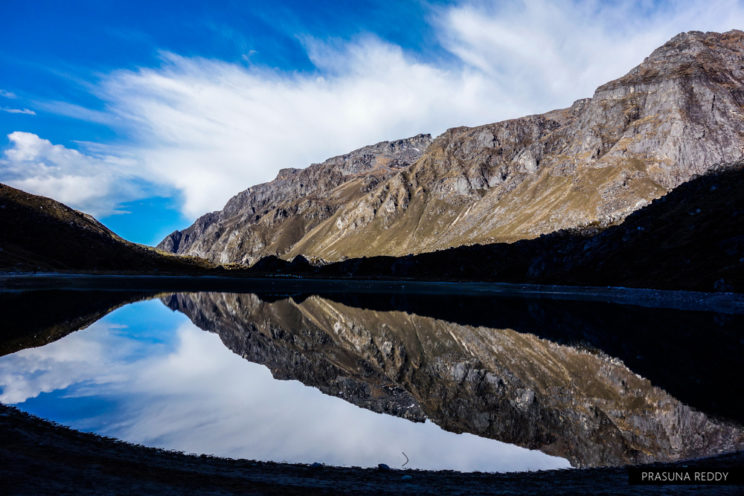 By the time I reached Lamune 3 hours later, I was beyond exhausted. The day's trekking wasn't over though. We had another 4 hours ahead.
A haunted night!
After the flat open valley up to Thangsing, I descended once again into the world of rhododendrons and dense forest. The place was so idyllic that I wanted to capture it on video. As I started recording with all my focus, a chill ran down the length of my spine. I turned around. There was nothing there. I ignored it and tried to record once again, this time at a faster speed. But something was unsettling.
If there is one thing I have learned to rely on, it is my instinct. So I packed the camera and started descending as fast as I could. I was alone in the jungle from Thangsing to Kokchurung, having started ahead of everyone, and had no idea how far behind the team was. As I reached Kokchurung, the rest of them joined and I breathed in relief.
Our camp at Kokchurung was the most picturesque place of the entire trek, surrounded by moist green woods, flowing river, surrounding mountains and blooming rhododendrons. As sun started to set, it cast its golden glow on a distant peak.
Following dinner, I stood by the tent admiring the dark sky crammed with brightest of stars I have ever seen. As I wondered if there could be a more charming place, Buddhis came over with a request. 'Madam, for today, please sleep in one of the rooms in trekker hut instead of the tent'.
Seeing the stars, there was no way I was going to agree. When I persisted, he nervously said 'we believe this place is haunted.' Just what I needed to hear after my earlier experience in the woods. Without another word, I got my sorry self inside the hut, which I guess speaks volumes about my admirable courage!
A satisfied end!
 Day 8: Kokchurung – Tshoka (3050m – 16 km)
I woke up with flu like symptoms dreading the 16 km trek. My forehead burned, head pounded and I felt drained even as I forced myself to pack and get going. Buddhis arranged backup of couple of team members to return and find us in case we didn't make it by night, which seemed quite a possibility.
But, determination not to be stranded in a jungle and craving for a good shower were enough motivation to keep moving. With couple of ibuprofen, I picked up pace and did not stop until I reached Tshoka just after mid-day, to the surprise and raised eyebrows of team.
Later in the evening, one of the Ukrainian's generously gave me a much needed lesson on photography. And the entire team celebrated the last night making up for lost calories, ending with a cake for dessert.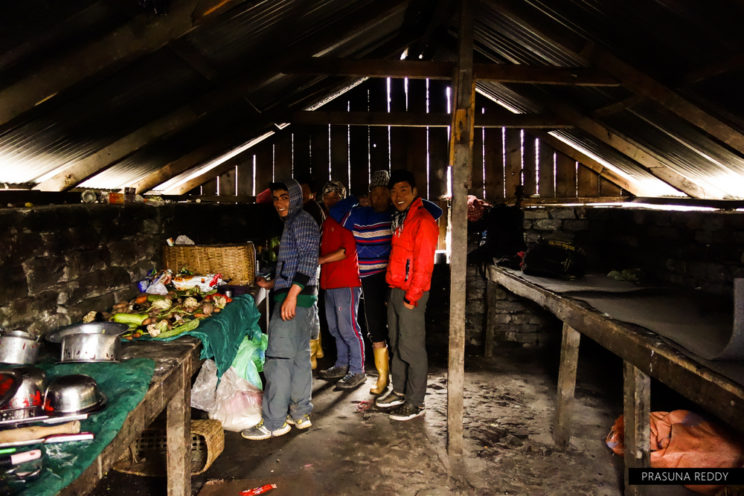 Day 8: Tshoka – Yuksom (1875m – 16 km)
Another 16  km trek loomed ahead with yet another sleepless night. I packed and started ahead once again, and to my own surprise, surpassed trekkers that were an hour ahead. Buddhis wondered what had gotten into me and joked that I was tiring him. That has never happened…ever!
He pointed to the wild strawberry and raspberry trees, some of the most delicious and juiciest I've ever tasted.  By noon, I reached Yuksom, tired, in pain but filled with a sense of peace and bliss!
On my flight back, I closed my eyes and various images of the trek floated to surface.
Misty view of herd of blue sheep; scattered rays on snow clad Goecha la range; dense moss covered woods; splurge of colorful flowers; rainbow on that white cloud; smooth glide of the Himalayan Monal; a dark sky crammed with stars; the stories of haunted nights.
Goecha La was as romantic, 'mist'erious and as beautiful as any trek could promise to be!