We seem to be traveling back in time, as we make our way to Jorhat in a crowded auto rickshaw on route to Majuli, the largest fresh water river island in the world.
Hopping into a ferry just as it is about to depart, we make our way onto tin roof top. Sitting close to the edge with rest of the crowd, knowing that a small mistake could land us in the river is childishly exciting. With nothing else to do for over an hour, we absorb the scenic beauty and energy of the place.
Brahmaputra seems content with itself, as though it doesn't feel the need to put on a show. Smoothly gliding over it, the ferry barely causes any ripples trying not to disturb the mighty river from its trance. Breeze is steady and comfortably cool; and in the distance sun starts making its way to the horizon.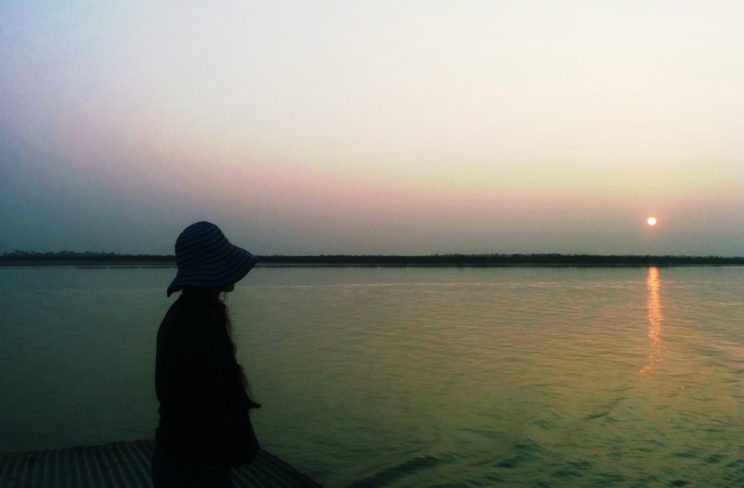 Once on shore, there is chaos as everyone finds their way through to shared taxis. Our destination is half hour away in Majuli village.
Surrounded by wilderness, staying in a bamboo hut seems an obvious choice. We settle down as darkness slowly descends. Time almost seems to stand still with nothing to divert our attention.
Assamese people don't lag behind in hospitality. And their hospitality is one that comes naturally, not driven by motivation of a tip or customer feedback. They feed us traditional Assamese meal in the kitchen, making us feel at home, and the way they serve is almost motherly. They insist we try the rice beer and keep bringing one dish after another.
We find ourselves humbled by modesty of people we meet on the island. They don't seem to give value to their wealth or designations unlike most city dwellers.
Following day, on our way to Lakhimpur, we resist the urge to stop the car every few minutes to admire the beauty of this Island. We could pick any direction and be assured of a scenic drive.
Fluorescent yellow mustard fields spread across as far as the eye could see, contrasting the occasional green tree. One glance at these fields is enough to make you sing and dance without a second thought.
On the way back, we decide to stay put near a lake. Sun starts setting and a dull orange glow envelops dark clouds, while the lake mirrors its' orange hue. Air is filled with birds chirping, calling out to one another to return home. One flock after other put up a show, flying in perfect formations, ignorant of their beautiful reflection. A lone kingfisher sits perfectly still on a pole over the lake as though admiring the beauty of its surroundings. In the distance, a fisherman's boat gently crosses over. And we sit on the grass feeling quite content.
There is a lot more to Majuli that could be explored, but we were spell bound by its natural beauty to find motivation for anything else. In a life where everyone is on their feet, running from one destination to another, Majuli comes across as a reminder to stop, breathe and live.