As darkness slowly descended on the woods, we commenced our trek. The first glimpse of an illuminated tree got us into a frenzy of excitement. But it was just the beginning. It wasn't fully dark yet! And very soon, we watched in awe, as the entire forest transformed in full view. I didn't need to look up for the stars. They seemed to have descended onto these woods along with darkness.
Our path was lit by hundreds of thousands of these tiny worms that looked like Christmas lights adorning each tree. There were not enough words to exclaim.  As we reached the end of the trail, we started feeling dizzy, but we couldn't shut our eyes or mouths.
This was to be one of the most memorable experiences of my travels. A glow worm trail, stumbled upon quite unexpectedly in the small town of Fox Glacier, just as I and a friend finished bush walking late one evening.
The receptionist at our beautiful luxurious resort suggested we also make a trip to 'Reflection Island' early in the morning. But being night owls, we couldn't make it well past sunrise, and hence I curbed my expectation. I didn't need to, since I was soon greeted by a lush green meadow filled with cows, grazing or nonchalantly lying around, seemingly oblivious of their surrounding beauty. And we would soon discover that we couldn't have picked a better time.
We commenced our trek on a well defined trail marked on either side by dense woods in a circuit around Lake Matheson. As we reached the viewing point, we were rewarded with a perfect mirror image of trees, hills, clouds, and even the dew on leaves. It was hard to tell where land ended and lake began. So perfect was the image that it looked like a giant Christmas tree lying horizontal on the ground, while the mountains looked like a natural hour-glass. By the time we reached the end of trail, we could see the mirror image distorting, so we couldn't stop raving about our luck.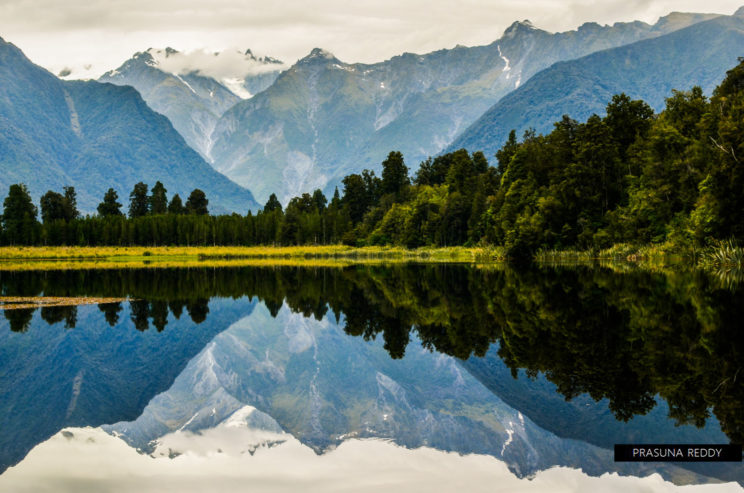 And finally we were on our way to do what we came for – hike the Fox Glacier. Wearing boots and crampons that seemed to weigh about 5 kilos each on our already tired legs, we trudged on the path. The dust covered icy glacier seemed endless, and we were quietly aware that we stepped back in time past the ice age. Soon, the beauty of it kicked the adrenaline once again and I found myself completely at ease using crampons on ice, dancing on the white sheet, peaking through crevices and slightly pushing the boundaries of safety.
To read about rest of my journey in New Zealand, visit You can't go wrong with New Zealand! and A birds' eye view of Queenstown – Hang Gliding!