Flying peacocks, waterfall massages, climbing trees, swinging into the river, watching fireflies, waking up to bird calls, Malnad cuisine, a palace and a temple, garden and a lake, beautiful drives. My recent getaway to Karnataka had all this, and a lot more.
It all started with school holidays when I decided to take my niece and nephew along on one of my travels. That was before I realised it would take three weeks of research and reading a billion reviews when you involve kids. For someone who likes to pack a backpack, book that last minute one way train or flight, researching travel is painful. But, I seemed to have pulled off the most successful kids' itinerary ever – a little bit of learning, history and heritage, nature and wildlife, adventure and fun.
First stop – Mysore: Hyper excited kids and slightly nervous me boarded the train to Bangalore, eventually making it to Mysore.  As the sun set, we strolled through variety of trees, myriads of flowers and various water fountains of the Brindavan Gardens. Colorful night lights and gentle cool breeze made it a perfect place to be in; and almost all of Mysore seemed to know this. Ofcourse, kids had to go on a boat ride, watch dancing waters show, eat ice creams, and buy stuff that wouldn't last beyond the night.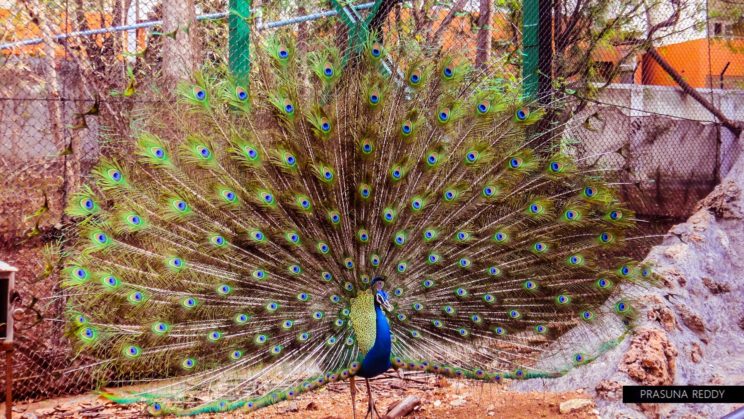 One of the reasons for choosing Mysore was an opportunity to visit RBI printing press  (only open to family and friends of employees). For the first time, we saw currency notes being printed. It's an interesting experience seeing a piece of paper of minimal worth turned into valuable currency, that eventually translated to root cause of human greed.
Next on agenda was the Mysore Palace. Unlike Palaces in Hyderabad, Agra or Rajasthan, Mysore Palace is quite different. The use of pastel colors as opposed to vibrant Indian colors may be a result of European influence. Individually, various parts of the palace were beautiful i.e. darbar halls, chandeliers, glass painted ceilings, temples; but overall it seemed too chaotic, over the top and lacked the finesse that you see in royalty.
My favorite part of Mysore turned out to be Karanji Lake. One has to see it to believe it that right in the middle of the city is an oasis abundant with nature. Home to number of species of birds, a boat ride on this tranquil lake is soothing. Couple of rain drops triggered peacocks into dancing, and who doesn't love it!
Off to Belur: Moving away from Mysore, I was a little apprehensive about using public transport in remoter parts of Karnataka with Kids. But decent roads and reliable public transport made it all too easy. We boarded the early morning train to Hassan, followed by a bus to Belur to visit its famous Chennakesava temple.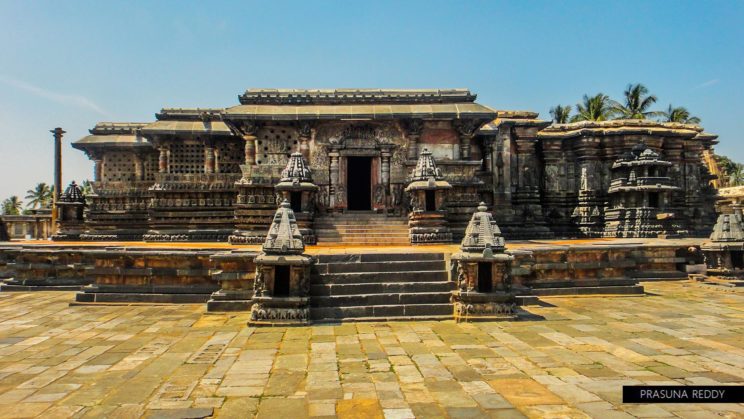 Built in 1116, the temple is a masterpiece of Hoysala sculptors. Every nook and corner is filled with such intricate sculptures and friezes, that it is no surprise it took over a 100 years. No wonder our ancestors used to undertake long pilgrimages to visit temples.
Chikmanglur: Another bus and cab ride along a beautiful drive later, we reached Coffee Valley homestay in Koduvally, Chikmanglur.  The secluded home stay is surrounded by dense coffee plantation and variety of flowers.
There are many reasons to visit this homestay, but it's a food lover's heaven, specially for authentic Malnad cuisine. Even the most cultured, refined gentlemen couldn't resist licking their fingers, thanks to its awesome hostess Ashwini, the owner who doesn't hire a cook. I never thought I would hear my fussy eating niece ever say "this chicken is awesome."  A coffee plantation tour, walk through the woods, watch the sunset and relaxed day is all we needed. Kids and I huddle together reading a children's book on wildlife from the mini library. As it gets dark, we sit outside and try counting fireflies and hear various calls of birds.
Karle: It was time for some adventure and fun, so we packed our bags for Karle, a village near Hassan. The drive made me wonder if I made the right decision to move away from Chikmanglur, but The Karle Homestay, a large estate couldn't have been at a more perfect location with it's own private riverside. Almost everyone becomes a child here. The banana boat ride threw us into the river (fortunately with life jackets on), sheer number of water activities by riverside, climbing trees, rope walking and a lot more. On a nature walk, we missed recording the most beautiful flight of a peacock. With over 500 peacocks around, you can barely miss them.
A short boat ride and walk led us to a stream with small waterfalls. Our guide from home stay asked me to sit under the fall and breathe; how he expected me to breathe in water, I had no idea. Skeptically, holding onto rocks on both sides, I slid down the forceful fall until I am immersed in water. It took me a couple of attempts to realise I can breathe normally through a small air pocket. Once I got a hang of it, there's no stopping me. The force of water massages head, neck, shoulders, relaxing every muscle. My vision is reduced to white tunnel of water and all I hear is its' force. It was simply meditative.
Campfire at night, sleeping in a tent and waking up to the sounds of the birds….I and the kids were in a happy place.
For a first time travel with sole responsibility of kids, I guess it was pretty successful given I didn't leave either of them behind. They returned home with a ton of stories and hopefully with a new found love of nature, travel and adventure.
Although, I might just leave the planning out of the next trip and book that last minute train!!