A glimpse of Parvati Valley
Kasol
After a relaxing couple of days in quiet Malana, we made way to Kasol, a place that is most likely second home to hippies. And true to its image, you come across people with baggy pants, colorful skirts or palazzos, tshirts with a variety of hindu symbolism, faces that look content, chillum casually and generously passed around. The energy of this place is one of quiet reflection.
We reached Kasol late afternoon and chose to stay in tents despite the freezing cold. After tasting almost everything on German Bakery's menu, we sat by the campfire, watched the stars and halfheartedly listened to the monologue of caretaker's life story.
A long time ago, I watched Zeenat Aman croon to 'Dum Maro Dum'. Kasol is surely the kind of place that reminds you of the song over and over again.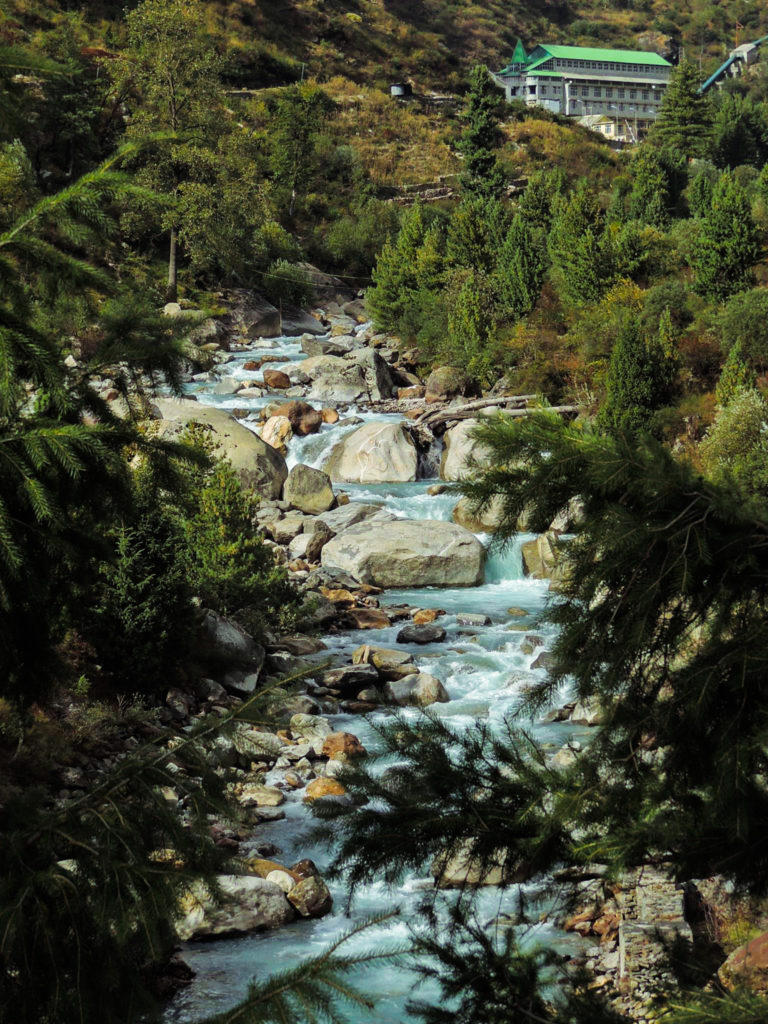 Chalal
After another recharging hot spring bath early in the morning, we trek to Chalal, a more scenic and relatively quieter place compared to Kasol. Crossing the long narrow bridge, we leisurely trekked along the Parvati River on a dirt track, surrounded by mountains, pine trees and white flowing water.
Kheerganga
Couple of us decided to trek Kheerganga. I had heard so much about this trek, that despite not being fully fit, it seemed worthwhile.
Though it was late autumn, colors of leaves ranged from red, orange, yellow, brown, green and every other shade in between. We pass through narrow lanes of villages, houses constructed in traditional kathkhuni style with stone and wood covered by slate stones, cattle on the way leading into the vastness of the valley.
At Rudranag waterfall, as we take a break and sit, an elderly woman comes over and hands me something to eat, which I realize is barbequed meat. Given her warmth, I choose not to tell her that I am a vegetarian and slyly pass it over to a friend.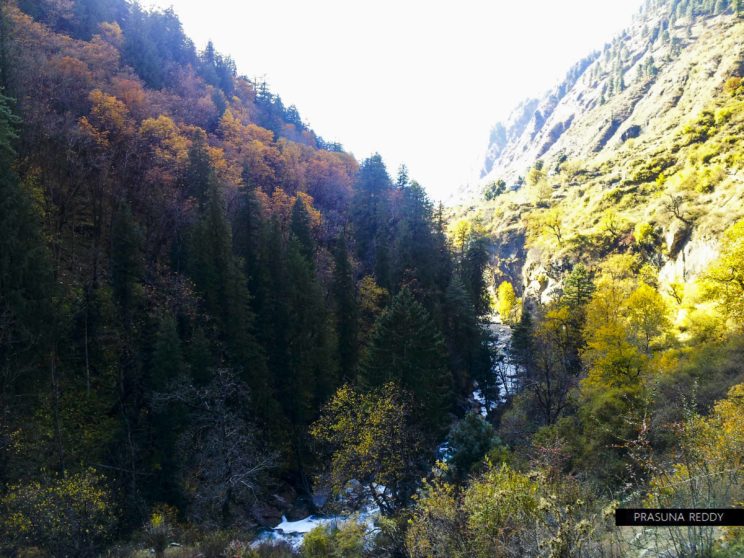 Soon, we cross the river on the narrow wooden bridge into the denser part of the trail where the suns warmth doesn't reach. The dense green wood, fresh and moist air and sound of the river are the only company we have left. Some parts of the trail are fully washed out, and with backpacks on, we tread the path slowly. It starts getting colder. With raspy breathe, and the chilled air making it worse, I struggle my way up.
Finally when we reach, I can no longer speak to express my joy. Not because the scenic beauty took my breathe away, but freezing cold took my voice away.
I was hooked to hot springs, so I looked forward to super hot spring bath once again. Although as I walked to enclosed ladies bath, I couldn't stop envying the mens section which had a  panoramic view of surrounding mountains and starry sky. And for all my excitement, I entered the slippery hot spring to find the water lukewarm, unlike the ones in Vashisht and Kasol. I could only blame it on the subzero temperature outside.
As we walked back to the guesthouse in biting cold, we stood awestruck at the sheer number of stars, perhaps the most I've ever ever seen. The sky appears a lot closer too. The silhouettes of mountains in the dark interrupt the starry sky and half crescent moon.
Despite the cold, we brace ourselves in layers of clothes and blankets, and sit outside admiring the beauty of the night sky, and last about 10 minutes.
Soon, burning forehead concludes what was wrong with me, and our plans to head to Tosh and rest of Parvati valley needed to be put on hold.
One of the things I try avoiding in travel is visiting the same place twice, so I can keep a memory of the place. However, Himachal is surely not a place that you visit once and let it be. It lures you back again and again!
For now, So long Himachal!