Something didn't feel right. My instinct was to check the time and it was around 3 am. Why did I wake up? It was then I noticed that everything was swaying, not shaking but swaying.
Random thoughts fired in my head.
"Is it an earth quake? No, It doesn't feel like an earthquake.
Maybe it's the wind outside. Do typhoons cause buildings to sway? Nah, that can't be!
Why don't' I hear any footsteps or voices outside?
Am I imagining this. No, I can hear the cups against the saucers! it's definitely swaying.
Should I go out? Will there be an evacuation alarm?
I am on the 15th floor, I shouldn't be taking an elevator. I am definitely not taking the staircase alone at this time. If it's an earthquake, I am likely to die before I make it to ground floor anyway.  I don't want to die in a staircase.
I might just sleep!"
And so i did!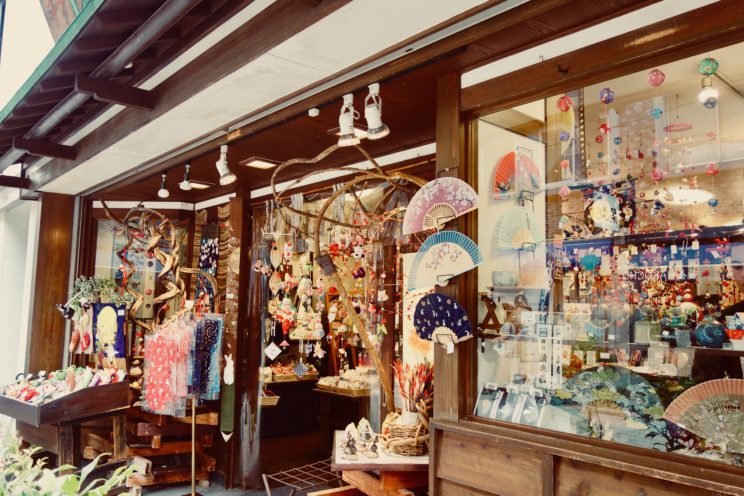 Earlier in the day, I was warned of Typhoon Jebi and told to leave office  early. The Indian in me is ofcourse not used to taking alerts seriously. So, when I got out, I made it safe by the breadth of my hard to hold hair. Typhoon Jebi was one of the strongest in over 2 decades with wind speeds of over 170 kms/hr, resulting in several people injured, losing life, and shutting down of Osaka. I learnt my lesson!
That night, at 3 am, I woke up to a 'swaying' building. Funnily, I seemed to be the only person who noticed it. When I reached work the following day, not one person said a word about it.  If it was in India, I would have walked into groups of people all discussing the same thing. I was almost convinced that it was a dream, when my mum called and asked if I was ok. She saw the news of an earthquake in Japan.
Apparantly, buildings in Japan are designed to sway to withstand frequent earthquakes. And that was my welcome to Tokyo moment!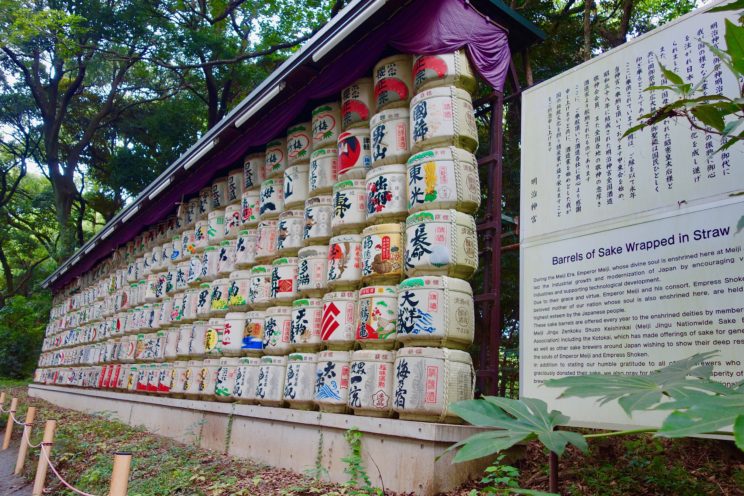 I wasn't very familiar with Japan, not that I am familiar with many places anyway. I heard about the fancy toilets, extremely organised train network and cherry blossoms. When I had the opportunity to go to Japan, almost everyone around me seemed more excited than me. Don't get me wrong. I was looking forward to going. But the mere mention of Japan received such excitement that it almost baffled me. If I said Hong Kong, Singapore, Vietnam or Amsterdam, I doubt it would have been that reaction. Now, I really needed to go to find out why!
I tried sleeping through the 10 hour flight, but as usual, barely managed any. But when I looked out that morning from my window seat, the riot of colors of sunrise in Tokyo was my good omen to Japan. I knew I would love it! 
Hotel check-in time was 2pm and I landed at 7 am. If there is one thing Japanese are great at, unlike us Indians, its following rules. Early check in therefore was out of question, so I dropped my bags and wandered out.
My first experience with the famous Japanese hospitality was at a small café. As I finished my breakfast, it started raining. Cafe's manager saw me stepping out in rain, asked me to stop and handed me an umbrella. I tried telling him that I may not come back that way, but he signed to insist.  I couldn't help smiling. If only more of us looked out for each other, than our possessions.
My mood instantly lighter, tiredness of travel forgotten, I took the train to Asakusa……..to visit Tokyo's oldest and most significant Buddhist temple, the Senso-ji.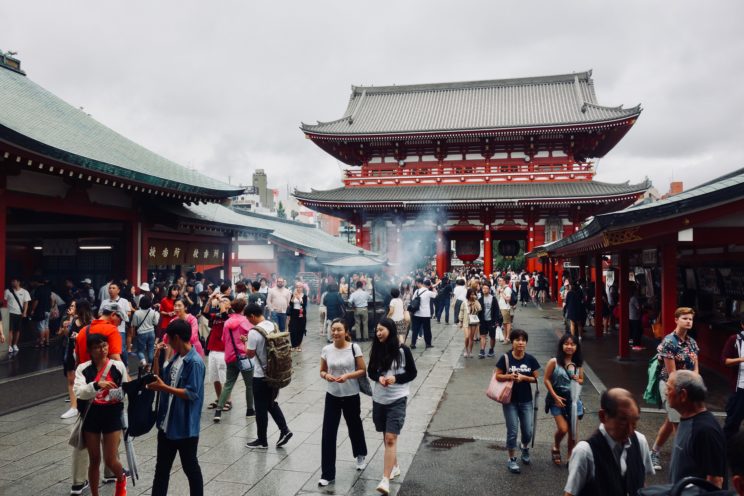 En route, I couldn't help noticing the beautiful lamp posts decorated with various flowers. For some reason, I always believed those existed only on movie sets, not in real locations.
Entire street was lined with shops, from food, to souvenirs, clothes, more food. Tokyo felt like an invitation to all senses. One word that seemed to describe everything was "Cute", and I am not choosing that word because I am a woman. You simply can't sum it up with any other word and it's hard not to fall in love with everything.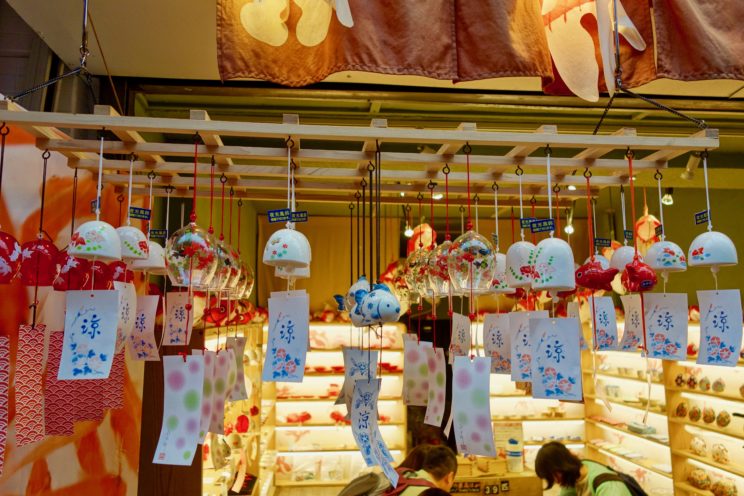 Temples stand out in not just how remarkably beautiful they are, but how thoughtful, ancient, and traditional they are. My favourite was the Meiji temple near Shibuya, simply because it felt like a sanctuary.
All the temples had fortune finding areas, and ofcourse, I had to try.
The instructions, once again Japanese style, were meticulously clear. Drop 100 yen in a box, shake the container that is filled with wooden sticks and pick a stick. The stick has Japanese letters on it, which correspond to a draw that is filled with leaflets, telling you what your future holds. If the fortune is good, you carry it with you. If it's not, you tie it at the temple to ward it off. I took mine with me…and life was going to be beautiful!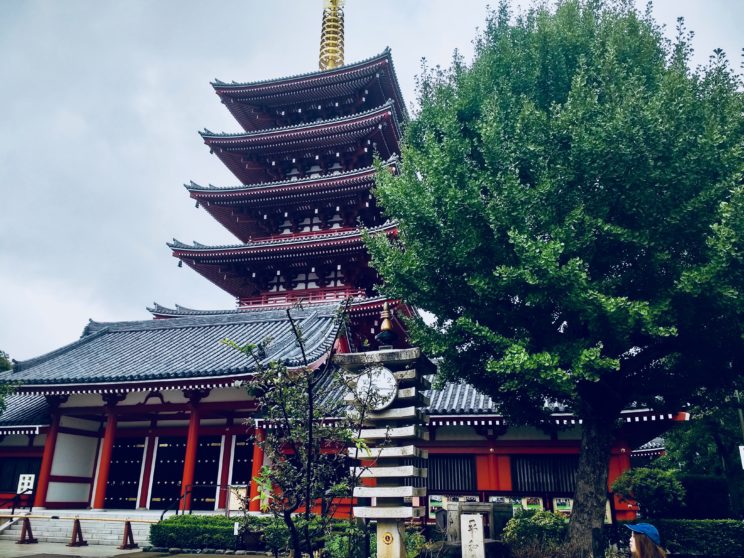 Over the next few days, I fell in love with Japanese cuisine, despite being a vegetarian. I would have loved to try most of the street food, if only they had english names.
Some of my favourites:
Sumi-Bio – I never thought a Vegan place would have that kind of variety and flavour in food. We were so full even before the main course arrived, but it was so delicious that it was impossible to resist. There were two places where I absolutely loved the Sake. One was here, and another in a small shop in central japan.
8ablish – It was strongly recommended by everyone I knew and without doubt, one of the best places I ate. The surprising part though was, despite eating a whole meal, we still felt light.
Veganic – a small super cute café that was a hidden gem. We were not really hungry but decided to try the burgers with hemp bun.
I didn't leave any opportunity to gorge on the desserts.
I was convinced the word restroom, was invented by Japanese. We were in a hotel where the most beautiful part of it was the "restrooms." With its' wall paintings, bridges and comfort seating, it was way more luxurious than I could imagine. They really were designed to Rest!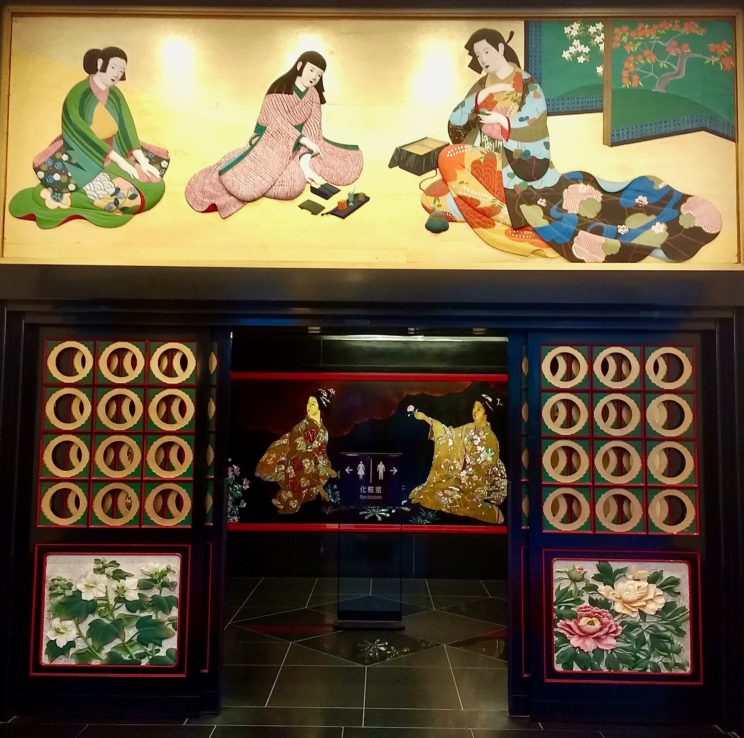 Then ofcourse, there are the fancy toilets.  Its honestly hard not to get used to them, specially the warm seats. I understood the need for them, i.e. importance of hygiene. But I didn't understand the music button on all toilets. Why was it so important?  I later learnt that it was there to kill the noises. If that doesn't convince you of the meticulous detail of Japanese, nothing will!
Of all the benefits of fancy toilets though, I never expected it to put me in touch with a long lost friend. Some serendipity surely when you post a picture of the fancy toilet on your whatsapp status…and you get someone say, "are you in Tokyo too" …And when two friends meet in a town like Tokyo, you paint the town red. And so we did. From art galleries, to high end restaurants, street shopping to mini pubs.  
From it's temples to art, shopping and food, there's a lot to do in Tokyo. But if I only had one night, I'd spend it at the Golden Gai near Sinjuku, an area unlike any I've ever experienced before. It's a series of mini bars, that open after 9 pm, each one has it's own identity and fits about 5 to 6 people. The character of the place was so unique and so ALIVE, its a must experience in Tokyo.
There's lot more to come on Japan, but for now…Cheers to chance meetings!