Mai ni meriye, shimle di raahe, kaaza kitniki door….haaayee…..Kazaaaa kitniki door!!!!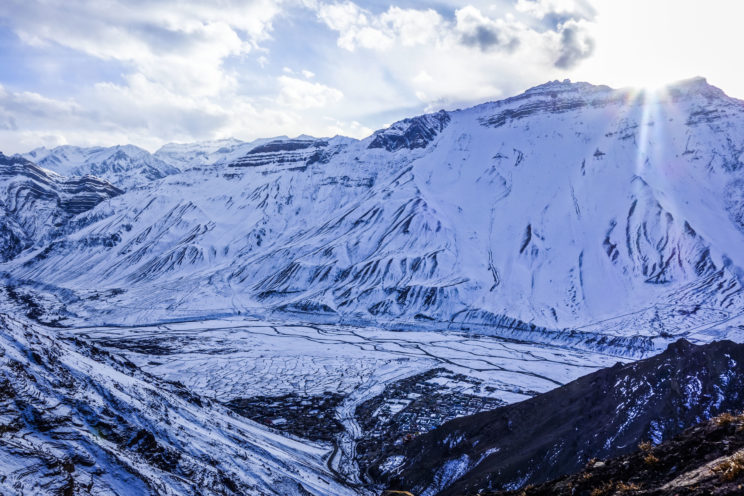 What happens when a group of local singers with soulful voices, guitar, old monk, talented chefs come together in a cozy mud house's kitchen with heated tandoor…..…….and not just about anywhere, but in a valley that shuts itself off during winter, covers itself in snow, while very few from the outside world show themselves up to brave its windy, bone chilling -15 to -20C weather. Yes, Spiti valley, a cold mountain desert high up in the Himalayan range.
For starters, it creates memories that bring a smile to the face long after the time has passed.
It is these moments that I chase. Moments that make life worth living. Moments that I surely wouldn't turn around ever and say I wish I hadn't done that! Moments where I get to be myself and give a damn about being judged.
Of all the things about Spiti, its ethereal beauty, rustic mud houses, frozen waterfalls, barren trees, glacial rivers, cutest little kids, layers and layers of clothing….those evenings were what I fell in love with the most.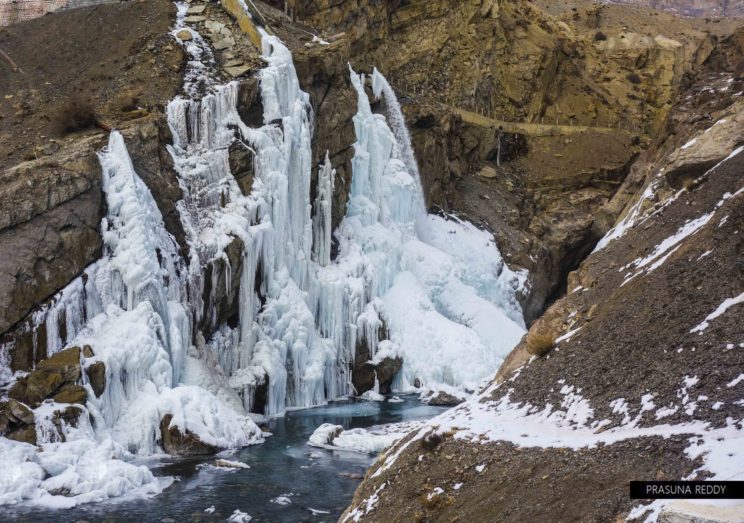 "You've lost your mind….why would you go to such a place in winter?", one of my best friends' messaged, nervous that something happened to me when she didn't hear from me for a while. Guess I forgot telling her the part that my phone will be out of network. I am someone who sleeps with two blankets on a +15C weather, so her question was quite a valid one. What was I thinking?
These days, most of us seem to be in search of the crazy wild world. The crazier, more unexplored, more extreme the better. Was it just that then? To be part of the madness to be crazy?
A few years ago, my 50+ mum took her first flight to Australia. She's never been in a plane and doesn't speak English. One day, she casually said that for someone who grew up in a village, she never saw herself stepping in another country, let alone taking a plane by herself.  I realised that the very journey was her crazy adventure. Millions of people fly in and out everyday, but  does that make her adventure any less! I guess not! We all have our own limitations, and I think travel teaches us to accept those limitations, turn them around into possibilities to explore, at the same time expand our scope of accepting the limitations of others.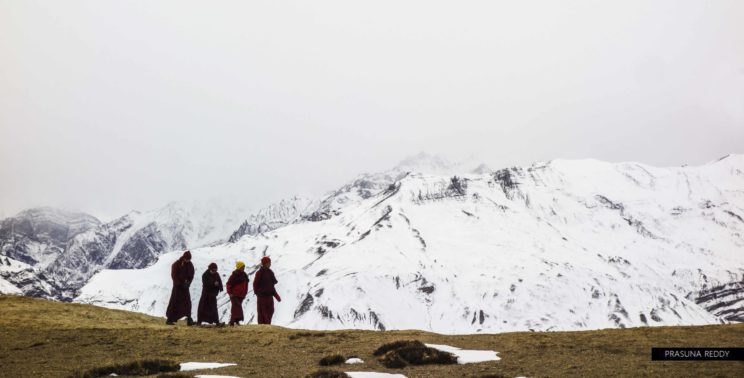 Personally, adventure is pushing my own boundaries, to do things that my mind puts down as difficult or impossible. But picking Spiti as a destination had nothing to do with being  adventurous.  There were two very different reasons. One, a friend of ours was going to Spiti to record his musical video and offered for us to tag along. What that meant was that we not only got to travel with a measly budget but also spend time at some beautiful locations. The best part though was that we didn't need to plan anything.
Two, the opportunity to go to Spiti came at a time when I was merely existing rather than living. 2017 was a year that I can only describe as a roller coaster ride, not necessarily in a bad way. It gave me the highest of the highs and lowest of the lows. It made me believe in miracles, dreams, and offered a fleeting glimpse into the universe's secret language….and it also pushed me into a depth of darkness that I've never experienced. I needed to shake up my own existence, to feel alive. So when my friend asked if I wanted to join, the answer was "Hell Yes….."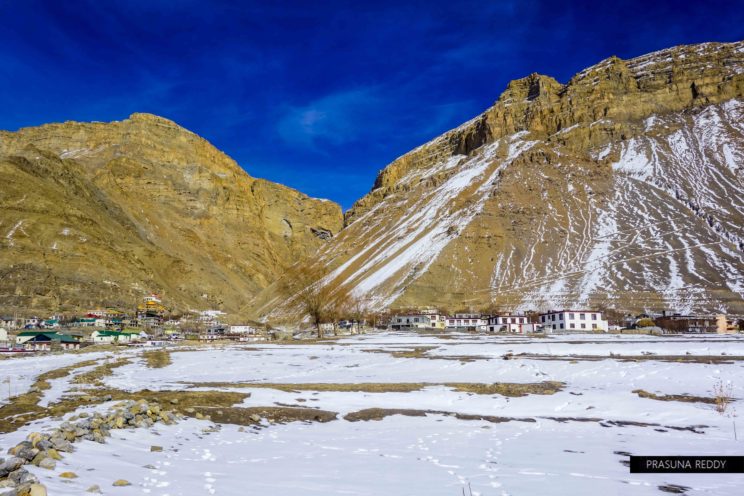 For most part of the night of journey from Shimla, I dozed on my avomine induced sleep. When I opened my eyes, my first thought was….are we on another planet. We had crossed Reckong Peo and the twists and turns no longer churned my stomach. But it felt like mars…or maybe moon.  Certainly not earth.  Keeping mouth closed was already a challenge, not only because of the beauty of the place but the drive where all we can see is a steep valley beneath us and one small mistake on the drivers part was enough to have us buried.
The road ahead was blocked by rockfall. So we waited as road works worked to clear it up. It was well over an hour and yet nobody was impatient. Reason, it won't make  a difference. It is a part of life and people accept it as it is. That very small experience is a general indication of the temperament of Himachalis that I've witnessed over and over again.
After yet another half hour, we got to move, and were starving by the time we reached the next village. There's only one café open but it served some of the best hot parathas. There was however no access to toilets anywhere in the village due to water shortage.  That was the "Welcome to winter in Spiti moment."
By evening as we reached Kaza, I headed straight to the kitchen of the only available homestay.  The cushions were so cold that I was convinced they were wet ….and the room felt like a freezer. I wondered if my new sleeping bag was going to be of much help. But before we knew it, this seemingly modest kitchen turned into one of the most happening joints of Kaza. Locals filled the room, barbecue fire raged, guitar was strummed and music flowed. Never heard before original songs, 80s bollywood numbers, soulful sufi melodies, country music to mellow Himachali folk, nothing was out of boundaries to this group of talented geniuses.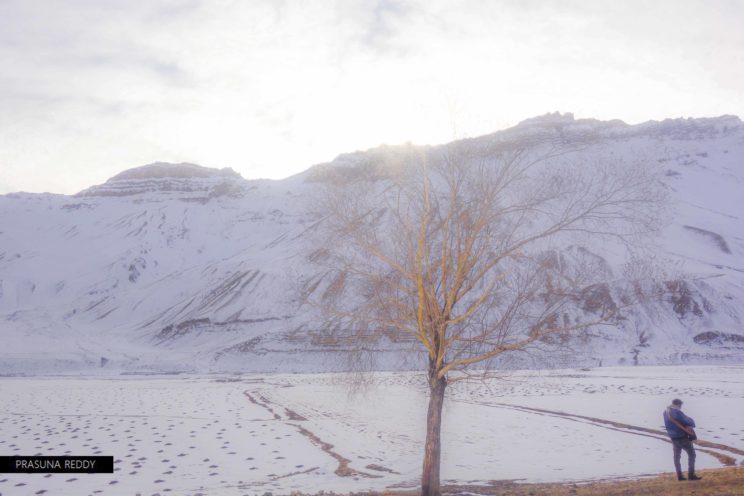 My first night was a tad bit warmer than I wanted, something I never thought Id say. I ended up sleeping in the kitchen next to the tandoor wrapped in a -18C sleeping bag and two blankets on top. Oh, I forgot to add the 7 layers of clothing that I already had on me!
Winter in Spiti brings with it some dramas. Like balancing your way in the toilet over ice (the dry toilet wasn't yet open by the time we reached), falling over randomly as we walked the city (I think my count was 3).
With minimal staff to help during winter, our host was a busy man. We offered to help clean the dishes, which wasn't as easy as we thought. Even with heated water which was getting cooler by the second, our fingers  kept getting numb. The locals however nonchalantly washed their laundry in the flowing (read freezing) river.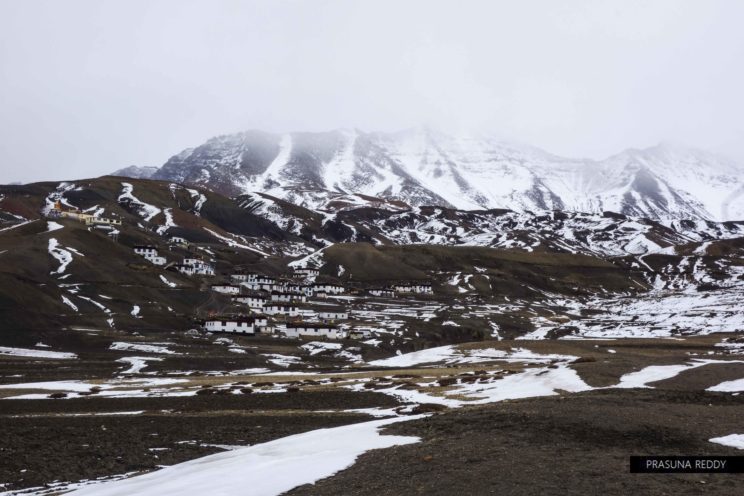 Over the next few days, we went through various picturesque locations where our friends shot their musical videos, mostly in cotton kurtas or a jeans jacket, with and without any shoes, while I soaked in the beauty of the place wrapped in 7 layers of clothes on the top, 3 for the bottom, 2 sets of gloves, socks and beanies each.
Spiti was enveloped in white. With the sun playing hide and seek from mountain peaks, the valley seemed to shine in reflection. Glacial ice floated on the green flowing river, trees barren of all leaves stood tall defying the weather, some mountains seemed to refuse to be wrapped in white, as though they wanted to retain their own rustic yellow identity.
Langza definitely gave us the worst chills with its unrelenting wind. But the host of the homestay at Langza was unforgettable in her simplicity and efficiency. She had the room warmed up and served us hot tea within minutes, and her homestay was impeccably clean. Women power I say!
At Hikkim, we followed the ritual of posting a post card home from the world's highest post office. As of writing this, they did reach the destinations quite on time! I did however have some reservations thinking how eco-friendly this seemingly innocuous task is, so I stuck to one destination.
On our way back from Komik village, we decided to walk back half the distance. The sun was about to set and the valley changed colors every moment.  Streams from the river shined in a golden hue as the sun set. It was hard not to stop every second to take a picture, lamenting the need for a better camera.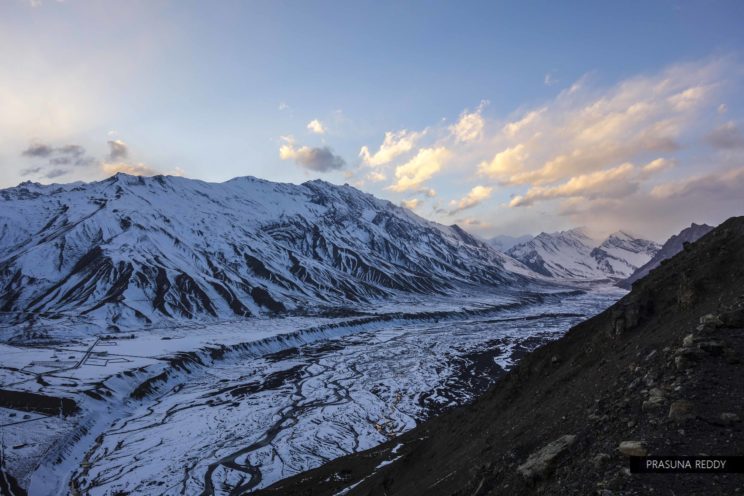 We were almost at the end of the walk when we looked up a mountain. In the moon light we see an animal running with such speed and ferocity that I have no doubt it was the leopard. That speed and grace of movement couldn't have been any less. My two other friends remain skeptical.
While the days in Spiti were picturesque and cold, the nights were warm and musical. The music/barbeque/drinks/dinner were the theme of the nights with the only change being the kitchens of locals. Spiti and its people have given us a host of memories to carry along.
As I said earlier about Himachal, it's not a place that you just visit once. For now, we bid a sad adieu!
The way back from Kaza was one of the most grueling journeys ever. We took the bus from Kaza. 24 hours later, in back to back HRTC buses, we reached Chandigarh, sleepless and exhausted. My two generous friends stood the whole time due to lack of seats, making sure I sit  to avoid travel sickness. How they managed to pull it off and still smile remains a mystery.
There is a reason why we are drawn to the mountains. Every now and then, they call you, to share their timeless wisdom. That of "Stillness". Seasons change, storms pass, sun burns and cold whips, yet, the mountains stand tall. In summers they give way to greenery and in winters they drape the snow so beautifully as though having the last laugh.
The mother of all adventures, the craziest of them, one that nothing can remotely come close to is….."to be Still within….in the face of limitless joy or never ending despair."