"Some journeys choose us. In their own mystical ways, they bring us to them!" When a friend sent me a note from a book, it was these words that got my attention.
I was in Yuksom, a small town in western Sikkim, to commence the 8-day trek to Goecha La. Although my physical fitness was questionable at best, I couldn't have been more ready to do this trek. I kept the backpack light with bare essentials and did a last minute recheck – spare batteries check, extra memory card check, hair wash check….. Nothing was going to stop me now. Or so I thought!
The following day, I reached the local trek shop bright and early. The owner broke the news that he has to delay my trek by a day. To make up for the delay, he offered me a guided trek to Khecheopalri Lake, something I hadn't heard of until then. So I was going to do a day trek right before a multi-day trek. Déjà vu moment, yes! This was not the first time, and it seems to be turning into a habit. But I wasn't about to take off my shoes, and Khecheopalri it was!
The lake is accessible by road from Yuksom, about 27 km. But there was no way I was going to sit in a car when trekking in the woods was the alternative.
Walking through the village, we turned towards a trail that led us into the lap of nature. What followed was a never ending descent along a wet and slippery path. I managed to fall and trip thanks to my untested new trekking shoes, but I was far from complaining. Not yet in any case! The path was lined with a variety of flowers and fields; air was untouched and the vista beautiful. We came across one or two locals who seemed quite relaxed and cheerful.  An hour and half descent later, I was thankful for a respite from shaky knees when we hit a brief horizontal road lined with white flags.
A musical stone
Buddhis, my guide, asked if I wanted to take a detour to a temple with musical stone. Curious, I followed. A simple wooden archway with prayer bells led us to steps lined with worn prayer flags. A small shrine is nestled under huge boulders among its' green surroundings. Something about it had an ancient laid-back charm.
Buddhis tapped a white rock and asked me to listen. To make his point, he tapped all the surrounding rocks, as his eyes held the excitement of sharing something so unique. Maybe calling it a musical stone was stretching it; but then again, where there is music in silence, why not in the sound of a rock!
Khecheopalri Lake
Back on the trek, we crossed a bridge and once again found ourselves in the forest, this time on a relentless climb. After an endless ascent we crossed the Khecheopalri village and joined the road that led to our destination, the Khecheopalri Lake. Looking at the traffic I had half a mind to turn around. The lake I would learn is considered sacred by Hindus and Buddhists, and hence attracts pilgrims throughout the year.
I was starving though, so I walked into a shack for lunch. After a sumptuous local meal I decided to brave the crowd and proceeded to the lake. The path is lined on either side with souvenir stalls followed by a small monastery, and then by a large number of colorful prayer flags adorning trees on either side!
Just as the path ended, the lake suddenly came into view. The moment I laid eyes on it, I was oblivious to everything else.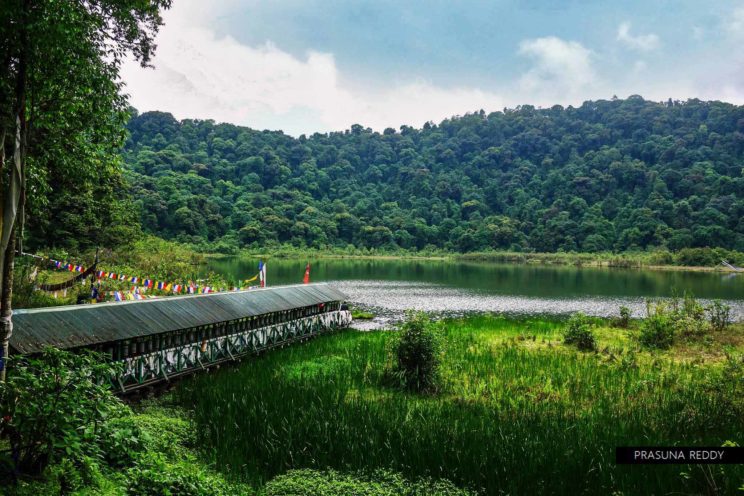 The pagoda with prayer wheels that seemed to stretch into the lake, large white curtain like flags on poles, a tranquil green lake surrounded by equally greener mountains, blue flowers blooming on small bushes. It wasn't one of those breathtaking moments, but rather one which bought stillness. Like the game 'statue' that kids play where you freeze. Time seemed to have come to a standstill.
I walked into the pagoda turning the prayer wheels with a surreal feeling. A priest started tying a thread on my wrist even as I tried to say no. I saw myself give in and smile.
Pictures of course didn't do justice. They seemed to be capturing the detail, the colors, light and so on, but I guess I was trying to capture the emotion, that feeling of serenity and timelessness. I soon gave up and sat down.
In a while, Buddhis said we should start the trek back to avoid getting stuck in dark. With one last glimpse to capture the lakes aura in the mind, I turned back, filled with a sense of quiet.
A remote village
Enroute, we made another detour to a small village. Buddhis said his aunt lived there and invited me in for a tea. While his aunt was away, his shy cousin started making tea. I sat in their small wooden home watching the goats and chicken roam around in the garden, their cardamom field, distant mountains and valley beneath. It was a dream location. As I sipped yet another milky tea, a brief thought floated that once our homes were like these, before we were brainwashed into believing in comforts of concrete layers with metal gates.
Khangchendzonga Falls
Back on the long trek, every muscle in my not so fit body cried out even as we reached the popular Khangchendzonga falls. For a brief moment I forgot the pain. Although not among the most impressive I had seen, the falls are a balm on any tired soul. Volunteers helped people cross the narrow stream to watch the falls closely. Their willing smiles as rewarding as the falls themselves.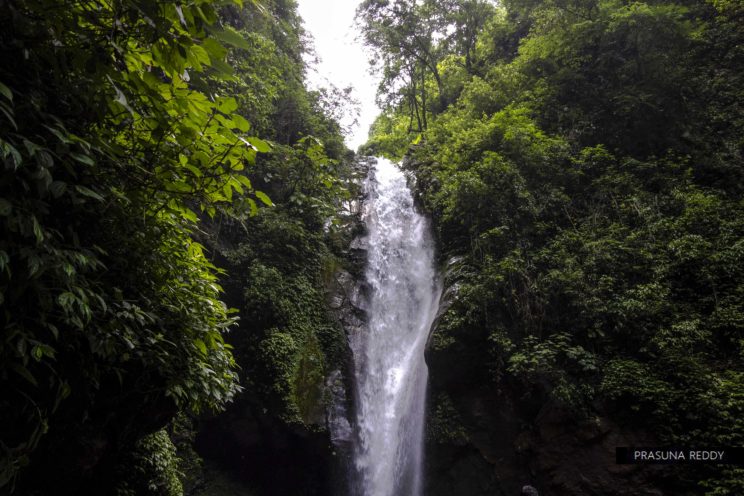 It was early evening as the sun started reaching the horizon. I was not looking forward to climbing the slippery path that we descended earlier in the day. To my pleasant surprise, Buddhis asked if I wanted to see the oldest monastery in Sikkim. One of his friends was at the falls and would drive us there. I could have danced at that moment. Come to think of it, I don't know what stopped me.
An old monastery
Following a drive back, and a ten minute hike we reached Dubdi Monastery just as dusk settled in. Established in 1701, it is also called Yuksom Monastery or 'Hermit's Cell' after its founder Lhatsun Namkha Jigme, one of the three lamas from Tibet who met near Yuksom and crowned Sikkim's first king. The shrine had a number of oil lit lamps that glowed forming a halo.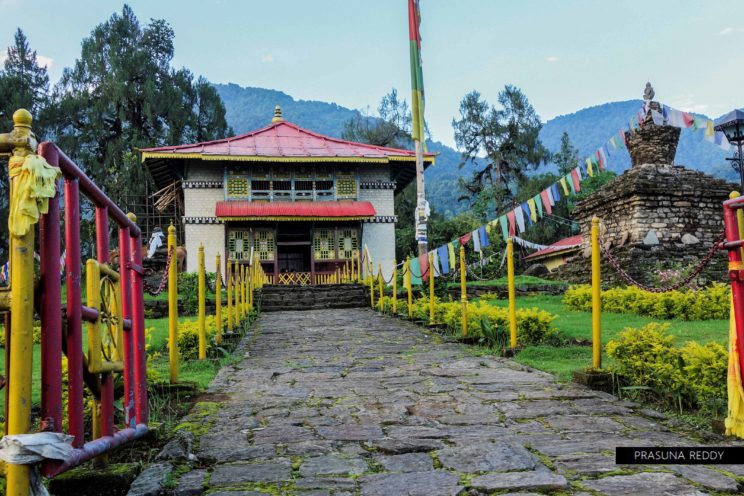 At night, as we walked to get dinner, the local monastery in Yuksom seemed to glow. The lights inside reflected the golden carvings of it's large prayer wheels on the monastery's glass windows. The day thus came to a reflective end. The only question left was, would I be able to wake up tomorrow for Goecha La…I would just have to find out!
Serendipity
When I left for Yuksom, none of these places were on my mind. And depending on their access to road, they were either crowded or quiet. But one thing that remained was a sense of serenity in the air, calming random thoughts and allowing me to just be!
A trekker I met on this journey asked me "what is your travel agenda?"  When asked to clarify, he elaborated "I want to see all the places in this world, every single one of them. What is yours?"
I thought for a moment and said "I don't want to see the world. I'll continue to let the world decide what it chooses to reveal!"