For years I wanted to backpack around Kerala but time never seemed to be on my side. It took a series of dramatic events to land me at the Kalaripayattu training and treatment ashram near Trivandrum (Thiruvananthapuram). I was there to try the Kalari detox treatment, an ancient healing technique. For those that are unfamiliar, Kalaripayattu is an ancient martial art considered one of the oldest fighting systems, practiced mostly in Kerala and Tamilnadu. Unlike most martial arts, Kalari also has a healing and spiritual side to it drawing me to experience it firsthand.
The ashram I visited held an instant appeal with its green surroundings. I fell in love with my small cottage room with its roof covered by green creepers, and its small porch overlooking a mini garden; quite a luxury compared to my not-so green flat in an urban jungle.
Spread over several acres of land, the ashram was self-sufficient in every possible way: milk from in-house cattle, vegetables/paddy/medicinal herbs all grown within its premises, bio-gas and so on.  It also had a temple were prayers and bhajans were held every evening. My favorite was the library that was filled with several books on yoga, ayurveda, vedas, upanishads, meditation techniques, auto biographies of enlightened individuals and so on. It was a seekers book paradise.
My days started with waking up to a tea at 6 am followed by a Kalari massage treatment, eating, reading, praying and meditating. Some days I watched the Kalari training sessions as students trained in unarmed fight, use of sticks and knives. Although the sessions were quite grueling the fluidity of movement of experienced students made it seem effortless.
My favorite activities involved meditating in the temple and reading the myriad books on yoga, along with learning Kalari Yoga, a less grueling but equally effective form of the art. The more I involved myself, the more I was convinced of the power of mind and the connection between mind and body. The one month I spent in ashram seemed so natural that everything else in the world started seeming unreal.
At the end of the month, I reluctantly left the ashram for the not-so-real world, but not before traveling around. I spent time cruising through the backwaters, soaking in its' quite lush green surroundings, variety of birds and the quiet.
The Padmanabhapuram Palace was one of the most beautiful palaces' I'd ever laid eyes on. Its maze of rooms expanded over acres of land. The architectural brilliance showed as the rooms were cooler without need of fans or ACs even in Kerala's humid heat, its' lighting natural, the carvings on teak wood so fine and intricate making one bow to its wood carvers. Everything about the palace was rich but not as a gross display of wealth but rather a sublime mastery over natures' resources.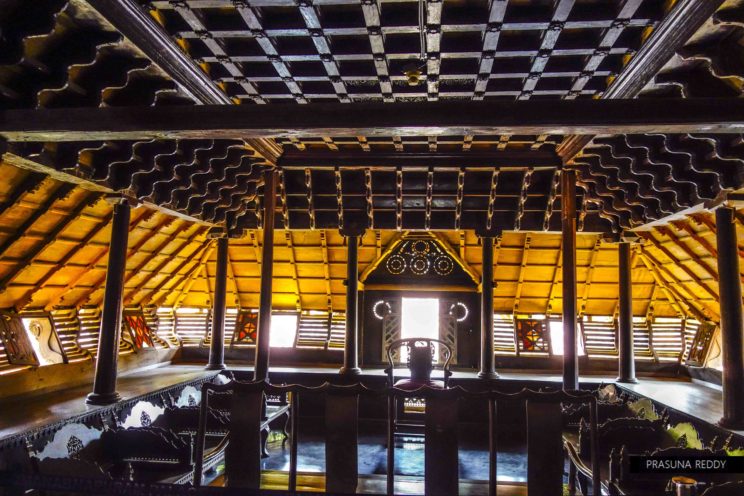 The Jew Town of Fort Kochi was our shopping heaven with its display of colorful skirts and tops, artifacts, jewelry and much more. The Paradesi Synagogue with its roof filled with chandeliers, and colorful lanterns seemed to withstand its glory even though there aren't many Jews left in town to even hold a Sabbath. Its walls told the story of arrival of Jews from foreign lands centuries ago and establishing themselves in Kochi. Similarly, the centuries old murals of Dutch Palace had much to marvel at.
The one thing me and my friend craved for was a decent tea, which has proven difficult thus far. Finally when we had enough of it, we asked an autorickshaw driver to drop us at a place where they served delicious tea, and surely he dropped us at a small crowded Gujrati sweet shop in Gujrati Lane right in the middle of fort kochi. As we relished freshly made kachori's with tea, I could see God right there.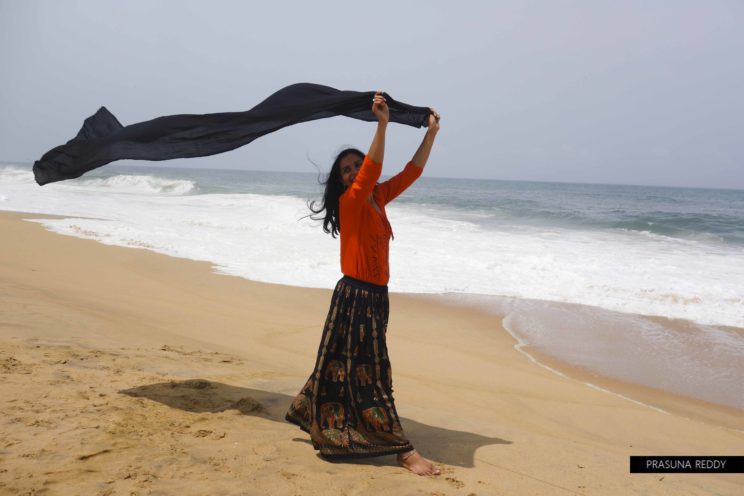 Speaking of God, it was quite by chance that I ended up going to the Padmanabhaswamy Temple. I was in Trivandrum and had a free evening when the friendly receptionist mentioned that the temple was within walking distance. Like most ancient temples, the stone carvings on the pillars, its architecture had me awed. But it was only when I casually mentioned my visit to my mum that I became aware of its real significance. The temple's architecture, very similar to most ancient temples, belies the fact that it is "the wealthiest" temple in the world with massive wealth stored in its secret vaults. As I spoke, I recalled the news I witnessed only years ago. But, more significantly, the temple dates back thousands of years (farther than 500 BC based on historical references to the temple).  No wonder the temple had me rooted; even without all this knowledge, I spent hours walking in it's courtyard only returning at night.
I had barely touched the surface of Kerala as I traveled through its' coast from Kanyakumari to Mangalore, but I fell in love with everything there was. From eating on banana leaves to its sloped tiled ancient houses, elaborate stone temples and their meticulous rituals to the quiet backwaters, golden sandy beaches to rows of coconut trees, its fertile land and smiling people.  It's going to be a lifetime of love affair with Kerala.