Malana – A Unique Journey
Robert Louis Stevenson's once said "to travel hopefully is a better thing than to arrive;" Wonder if he said this on or after a journey to Himachal, a place known for its' picturesque valleys, snow covered mountains, pristine lakes, dense woods, misty mornings….
A group of friends planned to go to Himachal with a vague idea of spending couple of days in Malana, followed by some trekking in Parvati valley. I couldn't say no, especially when all I had to do was pack my backpack and head to Delhi, leaving the rest in their hopefully capable hands.
Boarding with a general ticket on train to Chandigarh, we exited the crowded cabin and lodged ourselves by the exit door. Breezing past green fields, post-diwali illuminated towns/villages, we watched the dusk settling in and fireworks every now and then. To me, it is one of the many perks of living in India. Where else would you get an opportunity to ditch your seat, sit at an exit, feel the breeze and be refreshed rather than tired on a journey.
We reach Chandigarh late evening, a city that seems super organized, unlike most in India. Wider and cleaner roads, people obeying traffic rules, routes clearly marked. A rickshaw drops us at a dhaba and we are joined by another of the travelers as we have a late dinner.
Late at night, we wait by the highway to find a bus to Bhuntar. And I find out the hard way that boarding a non-volvo on long journey is strictly a 'no no.'
The following morning, we find ourselves in Manali instead of Bhuntar because my trusted co-travelers were too tired to realise when we went past Bhuntar.
Vashisht: Blissfully ignorant of any plan, I find myself in a rickshaw heading to Vashisht.  A small quiet village couple of kms from Manali. Wondering why we were entering a temple, I could not take my eyes of the beautiful carvings on wooden entrance of the temple, which I later found was Vashisht Mandir.
I am introduced to our reason to arrive at Vashisht, two other co-travelers who obviously did not get down at Bhuntar either, sitting and smiling, wrapped up and looking quite content. Reason: "a sulphur-laden superhot spring for bath." All the weariness vanished in an instant.
With every muscle relaxed and feeling comfortably warm, and reenergized by mint/ginger/honey tea, we hitchhike a ride from a generous tempo truck driver. Five of us hold onto railings as we swerve from one end to other on winding roads, unable to stop laughing at the crazy humor of this wild bunch of new friends.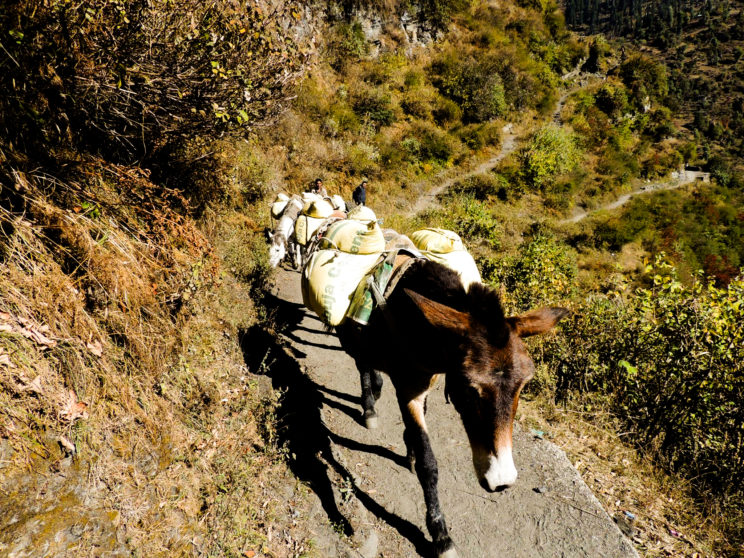 Manali
In a small roadside café, we treat ourselves to local momos and siddus, and head to Manali Market. Branded trekking shoes, jackets, winter wear for quarter of the price.  Damn! I knew I needed a bigger backpack!
Ladies in the group get a free bus ride to Bhuntar, thanks to Bhai Dooj!  Finally, joining the remaining of our co-travelers, we head to Malana.
Trek to Malana
The trek starts with a bowl of hot and delicious Maggie noodles;
Energized and in high spirits, we descend to Malana River, cross the bridge and start on a gradual hike towards the isolated Malana village. A pleasant trek surrounded by greenery, mountain peaks and sound of flowing river.  The small village seems idyllic from a distance. Occasionally, we come across some villagers trekking past us balancing a load of cannabis plantation.
We reach Malana Village at night and trek through using the dim light of torches/mobile phones. After managing to convince the guesthouse owner to let us use the dining hall for sleeping, we finally put our feet up and chill! Guitar, singing, some unreserved wild humor, delicious dinner and a generous host in a quiet distant village surrounded by mountains makes the long journey fully worthwhile!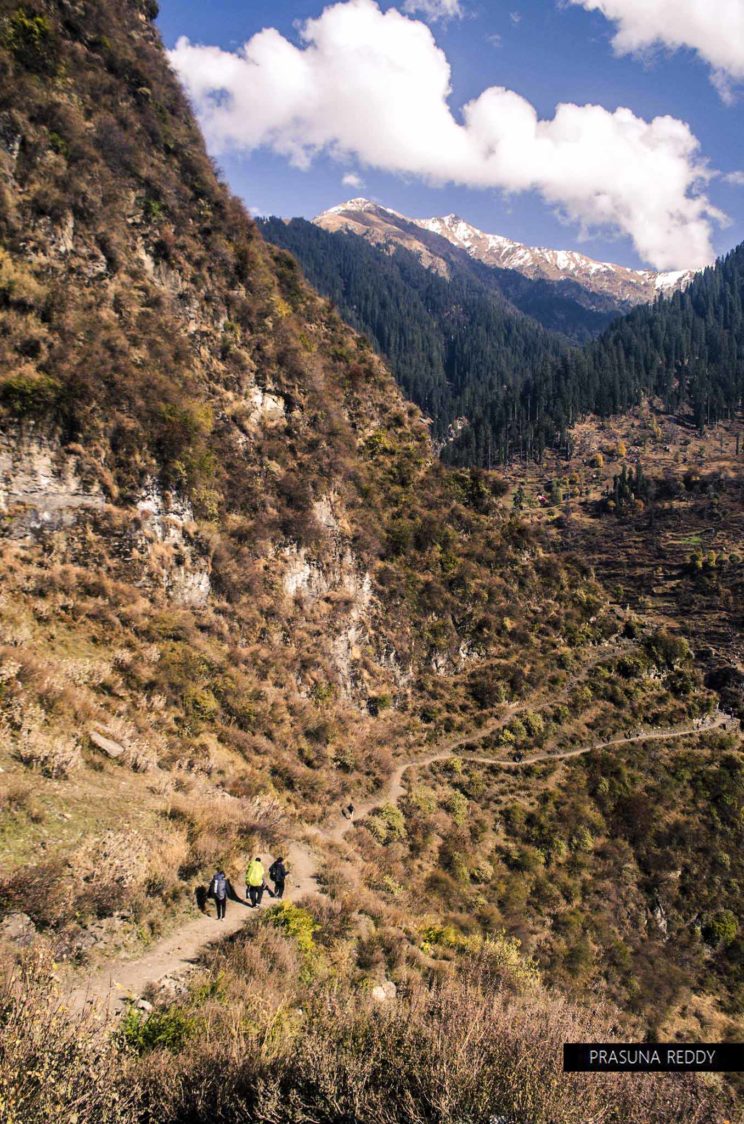 Following morning, or rather afternoon, we set out to explore Malana. Considered to be Aryan descendants, Malanis have some distinct features with their light eyes and hair.
Women of the guest house are busy extracting Malana cream rubbing cannabis leaves with their palms. I wondered if it's the cannabis in the air that gives the place such a relaxed energy. Kids certainly were not rushing to school, and adults don't seem to have anywhere to go for work.
Almost everyone, including kids seem to be in the trade of Malana cream. For all the discreteness and legalities surrounding cannabis, openness of trade of Malana cream is quite an amusing sight. Malana I figured is most certainly a stoners' dream destination.
As outsiders, we are not allowed to touch temples, stones lining the temple path, houses or anything that belonged to Malanis. The reason: Malanis consider "all outsiders" as inferior and hence have to go through a cleansing ritual if someone touches them!
Besides a fine of Rs 2500, a lamb slaughter is apparently involved in purification ritual. If the fine didn't dissuade anyone, the image of a poor lamb paying for a mischief is hopefully a deterrent to breaking any rule.
We then head on a trek to nearby waterfalls and soak in the quiet and remoteness of the place. Late afternoon, we stop by the village's only café and have some of the best paratha's I've ever tasted.
The following day, trekking back, we decide to take a dip in the freezing waters of Malana River. Screaming and kicking, we dive in one after other.
This group was crazy…and crazier the better when you travel to Himachal!