When you think of traveling somewhere, a metro city is not what comes to mind. But, I couldn't count days soon enough for Kolkata.
The reason: Dover Lane Music Conference; a musical feast of 4 nights (no typo there) of Indian classical music delivered by some of the super distinguished legends!
And what a journey through music that was! Listening to instruments that I've mostly known by name alone and renditions of raag's most of which I've never heard of.  Surbahar, Santoor, Sarod, Sitar, Violin, Flute and several vocal performances accompanied with Tabla, Pakhawaj, Mridangam, Harmonium, Tanpura.
Being biased to Sitar, I eagerly awaited Shahid Parvez Khan and Anupama Bhagwat, and I could barely keep my mouth closed as they performed. Every instrument and every vocalist rendered such master pieces' that one cannot, try as they might, pick one that was better than other. While N.Rajam's three generations played in such unison that words seem to visibly flow out of their violins, Santoor in Shivkumar Sharma's hands looked like the instrument was designed solely for him.
While Amjad Ali Khan mesmerized on Sarod, Shashank Subramanyam on his flute, and M.Venkateshkumar's singing effortlessly even with a blocked nose made me wonder if humans' have mastered the art of living without breathing.
And when Pandit Jasraj closes the conference with his singing, the only thought you are left with is, what was I doing all my life and how could I have not been here sooner?
If you are a novice to classical music like me, you would still not miss the fact that none of these legends were using any written notes. They can choose any 'raag' and instantly play their own melody for hours, effortlessly in sync with tabla and accompanying instruments. That I understood is the beauty of Indian classical music!
What amazed me however besides those jaw dropping performances was the audience itself.
Every seat was taken in the huge Nazrul Mancha auditorium. People here are not just awake all night listening to each rendition with mere interest; they are familiar with the nuances of each 'raag'. As each performer finishes, they still crave for one more, trying to hold on to the brilliance of the performer for a few more minutes. As Pandit Jasraj ji joked "Kolkata ki janta ko tho maanna padega, chahe thaka ho ya buda ho, inka pharmayish aayega."
That is not all though! There is a lot more to Kolkata as I was about to discover.
Best way to see Kolkata is by foot and religiously sticking to metros, tram, local buses and shared auto rickshaw's for transport. Riding an auto rickshaw in Kolkata is quite an adventure in itself considering the driver seat is accommodated for 4 people. If you find yourself next to the driver with only one bum on the seat, all you could do is hold on tight and pray at every turn!
I wasn't so keen on museums or memorials, but the one thing I couldn't resist was Hooghly River. I admit, water is my weakness! A bus ride of Rs 6 got me to Howrah station and another Rs 6 on a local ferry got me an awesome ride on Hooghly River with a perfect view of Howrah Bridge.
For most part, I walked and walked everywhere, and this is what I saw:
Barbers working on a haircut or shave on a busy cross road; shoe shiners rigorously polishing away; rickshaw pullers working their muscles while a stranger sits with ipod plugged in; a group of random strangers standing and playing carrom board or chess with makeshift light; an entire street turned into a cricket pitch played by two teams with over a 100 spectators in the middle of the day; street sellers yelling out the prices; paan waalas serving a variety of paan; tea makers constantly refilling the pots and serving the khullad tea; a sweet shop every 15 mts or so, a shop keeper imitating a soldiers' march as they play yet another manoj kumar's desh bhakti songs.
For a random viewer, all they might witness is poverty on streets. But when you look closely, you see that "Life happens on the streets of Kolkata."
Then there is the other side. Bengali's seem to be encyclopedia's when it comes to poetry, music, theater, literature, movies or any art. You name a 1970's movie and they will tell you the personal history of its' directors, writers, screen players, music directors etc. along with what shot was taken in which angle and what screw-ups the director or editor made and still have more to talk about the subject, all the while feeding you some mishti.
When it comes to food, Bengali's know how to indulge their taste buds; and I am not even talking of sweets yet! If you are thinking its' all fish and meat, you haven't seen a vegetarian Bengali menu.  Legend goes that widows in Kolkata were not permitted to eat meat. So in despair or vengeance, they indulge themselves by making a variety of vegetarian dishes so tasty leaving behind cravings for any meat. The must try are Shukto, Lucchi, some Dhokar Dalna; and whatever you do, don't miss the Bhaigan Bhaja with musoor dal and rice.
One cannot experience Kolkata without trying it's street food. So indulge on Khullad Chai, Sweet Paan, as many Puchka's as you can in a day, Khullad Lassi and anything else you get your eyes on!
And ofcourse the sweets! Even if you do not have a sweet tooth like me, you are more likely to get several sweet teeth when you are in Kolkata. Reason, their Rasgulla's and variety of Sondesh can get anyone to ignore those warnings of cavities! Then there is the Khajur Gur and Mishti Doi.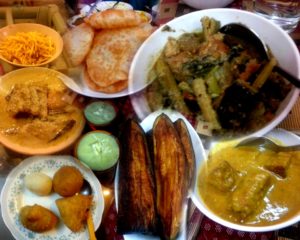 A week later, I carried my couple of kilos heavier self with my backpack and walked away with a different perspective of life. Kolkata gives meaning to the words that you don't need to have it all to feel alive. All one needs is, playing a game of carom board with a bunch of strangers, getting your hands on as many sweets in a day as you can, and be carried away by the music of life!
Although there was one thing I was itching to find out! Why weren't Bengali's busy becoming doctors or engineers?